Overland Park is a four-hour drive away from the geographical center of the United States. We are about as far away from the coasts as you can get. That's not a bad thing. We live in the breadbasket of America. Look me in the eye and tell me carbs aren't delicious. And naturally, the aroma of barbecue drifts from every direction.  
But the cuisines of Overland Park reach far beyond bread and barbecue. Sushi lovers get a taste of Japan from some of the best sushi chefs in the country, right here in the middle of the United States. 
The Contenders 
We got out our chopsticks and we picked the best sushi restaurants in Overland Park. Okay, some of us got out our chopsticks, some of us use our hands because you can't take the Kansas out of a woman.  
Sit with your family and friends around our hibachi and pick from an array of meats, seafood and…
Traditional and contemporary Japanese cuisine including bento boxes and sushi rolls.
Serving sushi, teppanyaki and Asian favorites plus Hibachi dinners.
Kyoto Sushi & Steak Japanese Restaurant 
Kyoto's Sushi & Steak Japanese Restaurant is home to "the longest sushi bar in town." And they even have traditional tatami rooms for diners looking for the full, traditional Japanese dinner experience (that means take off your shoes, please). This family-friendly favorite features over 20 different fish varieties. Take a seat where you wish – the bar, a table, or a hibachi table where a chef will cook for your kids from the kids' menu. Trust us – get the sushi while the entertains the kids. And open wide! There's a shrimp flying at you. 
Please call in advance.  
Order this: The Crazy Monkey Sushi Deluxe is a family favorite. It's salmon, avocado, and cream cheese that's rolled, battered, fried, and then topped with a dollop of sweet and spicy mayo. 
Kokia Japanese & Asian Cuisine 
If you listen hard enough, you'll hear the locals talking about this little sushi jewel in the middle of a strip mall. Kokia is Overland Park's best kept sushi place secret. It's tucked away, hidden from the main road. It has a full menu of sushi and Asian cuisine. And a BARGAIN. It's the type of place locals know to find a bargain. Don't be fooled -- they don't slip on quality with their half-priced sushi at lunch. But be prepared to take it to-go. When they're open for dining-in, be sure to grab a seat at their gorgeous sushi bar.  
Order this: Angry Dragon roll – shrimp tempura, spicy tuna and avocado rolled with soy paper, topped with spicy kani served with spicy mayo sauce. For a quick lunch, try the spicy crunchy tuna! 
Sawa Sushi & Hibachi specializes in traditional and contemporary sushi and Japanese cuisine. This quaint little spot is meant for small parties as the restaurant itself is small but in return, it doesn't slip on attention to detail. Who doesn't love a flower atop their sushi?  Sawa is said to be the best sushi in not just Overland Park but in Kansas City. The servers work hard to make sure you're satisfied with your meal and will give you their suggestions if you ask. Put this on your must-try sushi list. 
Order this: Sweetheart roll - soy paper with crunch, spicy tuna, and avocado. Tuna and spicy mayo on top. Try the Gyoza, pan-fried pork dumplings! Perfection.  
Komotodo Sushi Burrito 
Komotodo is a little different than the rest of the sushi restaurants on this list but it's for a good reason. They have some very good sushi – it's just not traditionally served, we could say. Komotodo Sushi Burrito is exactly what it says it is. It's a mix of Asian and Latin cuisine. You can make anything into a burrito and that includes sushi. This restaurant is more of a to-go type, fitting as it's much easier to eat a burrito in the car than it is to eat sushi. Some call it a love child between Chipotle and Kona. And for the picky-eaters – they offer more than just raw fish for your burrito.  
Order this: Hope you like it spicy! Diablo Tuna Crunch burrito is spicy yellowfin tuna, avocado, cucumber, pickled red cabbage, corn, and teriyaki. And don't forget the Avocado Fries! Delicious! 
Toro Hibachi Sushi & Asian is a family and date-night favorite. Families love their hibachi tables and entertainment by the chefs. And couples love it for date nights – their cocktails will blow you away. But enough about families and cocktails – we came here for the sushi and sushi you will get. Toro is generous with their portions so come hungry. And open up! There's flying shrimp here too. 
Order this: Daikon Maki roll - radish wrapped with tuna, yellowtail, salmon, crab, mango and cucumber. They're also known for their Ramen Noodle Soup! 
And The Winner Is
The results are in, the unofficial winner of the best sushi in Overland Park goes to Sawa Sushi and Hibachi. There is so much chatter about Sawa's rave reviews by locals that we had to pick them. And the flowers in the sushi are a nice touch. The service is beyond friendly. If you're in the mood for a taste of something 6,000 miles away – Overland Park knows sushi.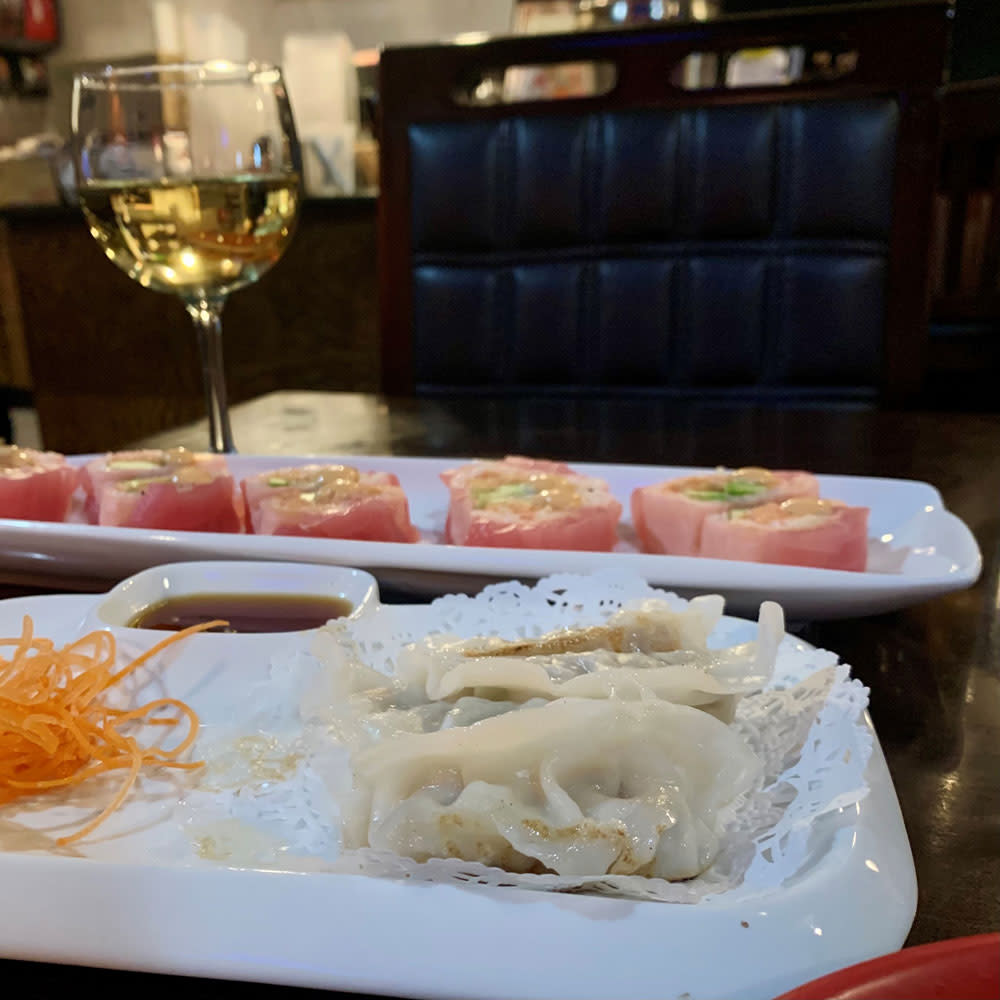 And for a monthly dose of fun, sign up for Let's Go OP.  We deliver the best experiences and flavors in Overland Park directly to your inbox.