It doesn't take long to see Kansas City loves Kansas City. The KC heart seem to be everywhere – on t-shirts, on the sides of buildings, and now you'll see hearts sprinkled around the Kansas City metro until the end of May 2022.
The Kansas City Parade of Hearts is a public arts experience where 5-foot by 5-foot hearts are placed throughout Kansas City and surrounding cities as an example of unification. More than 100 local artists were asked for their unique design for each of the hearts.
Download the Kansas City Parade of Hearts app to learn about each artist and their story behind their love of Kansas City. And then take a virtual guide through the neighborhoods of KC. You'll find nine hearts in Overland Park. Get out that camera phone and collect those selfies!
A HISTORICAL WALK DOWN THE YELLOW BRICK ROAD OF KC LIFE
Location: Price Chopper at 151 st and Metcalf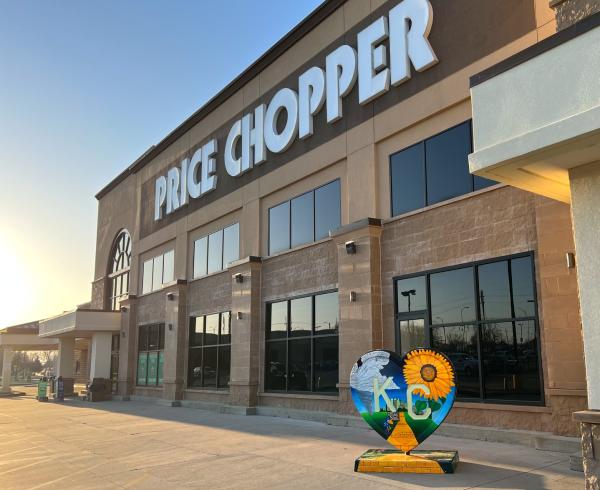 "Think of this design as the Good, the Bad and the Ugly history of BOTH sides of the State Line and what we can take forward for the expansion of acceptability of ALL mankind in America." -- Kelly Nagorka, artist
DIVISIONARY
Location: InterUrban Arthouse in Downtown Overland Park
"It's a textural piece, so you are meant to feel it. You can touch it on one side of the heart, and you have the grid of the brick and the warehouse windows. You can feel the lines dividing those shapes. And as you move to the other side of the heart, those windowpanes break out of their frames and they come together and form a mosaic. That is to illustrate my desire that Kansas City would find ways to come together and care for each other; to have healing for a stronger community, a healthier community." -- Eleanor Harbison, artist
FOREVER KC
Location: University of Kansas Health System 125th and Antioch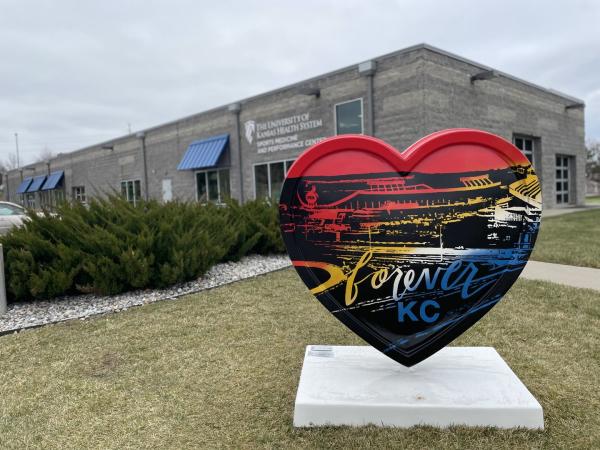 "Two high contrast views showing the KC Sports Complex. Side one shows the Chiefs stadium and side two shows the Royals Stadium, with the Kansas City skyline in the background." -- Douglas Bennett, artist
OUR HEART TO THEIRS
Location: KenTacoHut at Rosana Square Shopping Center 119th and Metcalf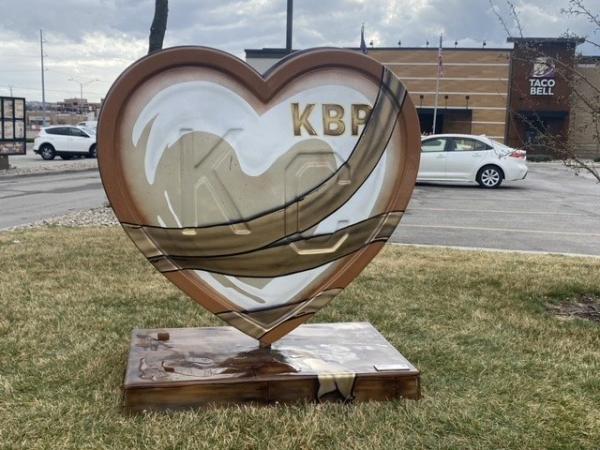 "I moved here in 1996 and learned how Kansas City does their way of life. The way they do their way of life is they hold on to the history of a lot of the buildings. They like to talk about their city and they're super proud to be here. I am now proud to be KC. The people here in Kansas City are a community. They look out for each other. They're very proud to help each other in times of need. And as we know right now, there is a lot of time for need." -- Ken Deladurantaye
PRIDE OF THE CITY
Location: University of Kansas Health System / Indian Creek Parkway & Nall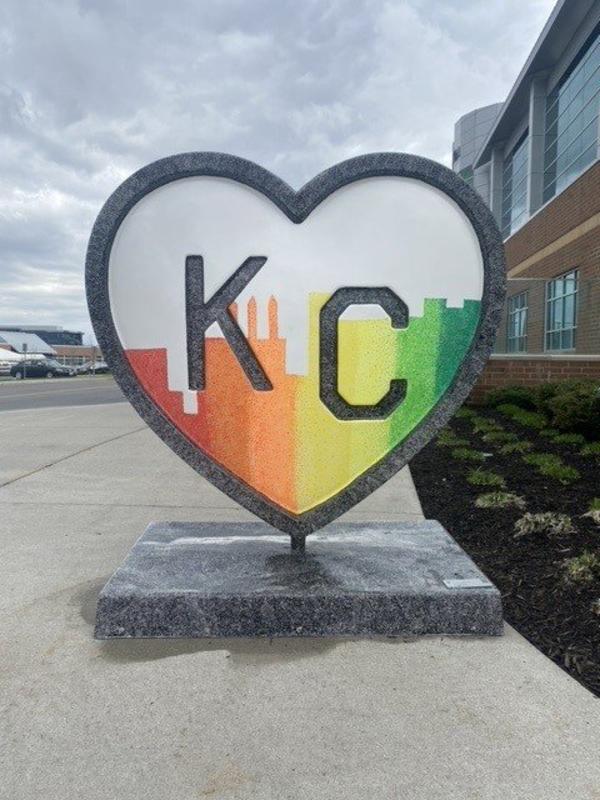 "My design was inspired by the LGBTQ plus community in Kansas City. I created my design as the Kansas City skyline, but I created it with a rainbow spectrum of dots just to symbolize individuals coming together to create something unique and beautiful." -- Amy Eli Huxtable
PROUD TO BE KC
Location: Deanna Rose Children's Farmstead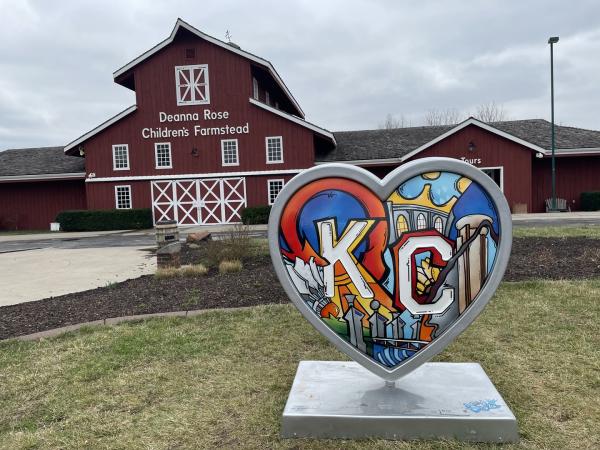 "This was brought to me by the owner of KBP brands. They work a lot with a fast food chains at fast food restaurants. They're getting hit really hard with COVID right now. This was his way of kind of honoring and letting them know we get it. We're here to help you. And I'm just kind of guiding them through their hearts." -- Ken Deladurantaye, artist
SWEET KC
Location: Quivera Park 119th and Quivera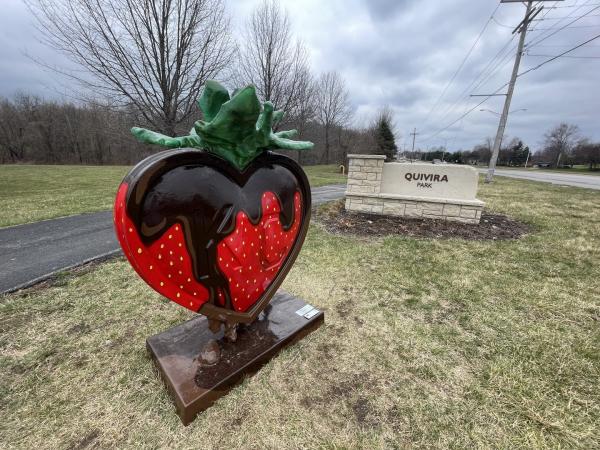 "This heart is in honor of all the amazing chocolate this city has to offer. I have shared amazing chocolate moments with friends enjoying the unique Chocolate Bag dessert, delicious Russell Stover's candies and gorgeous Christopher Elbow Chocolates! This heart was designed to make you smile, and inspire you to share a great chocolate treat in Kansas City!" -- Julie Heide, artist
TAKE A BITE OUT OF KC/SAY WHAT YOU LOVE
Location: Museum at Prairiefire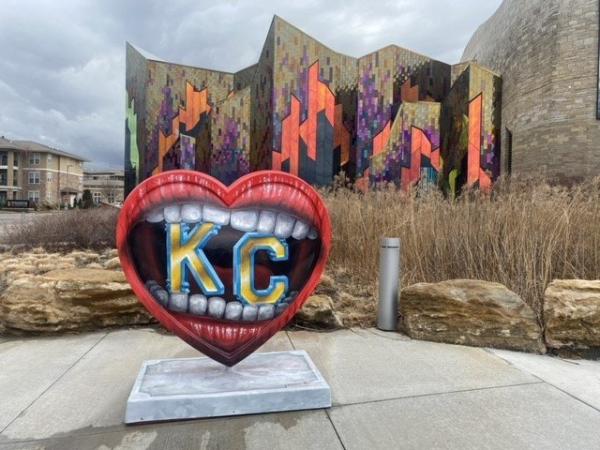 "I think I started with wanting the heart to be something fun and eye-catching for the entire family, and to involve the kids. It evolved into a visual pun of a mouth taking a bite out of the KC in the middle. So it's encouraging you to take a bite out of KC to go out there and explore and find out what the city has to offer. The backside has a little quote that says to say what you love. Use your mouth and to get out there and to say what you love, because we're at a time where people are doing a lot of the opposite. They're getting on social media and talking about things you don't necessarily like. My Heart is trying to turn that around. Get out there and have conversations and say what you love." -- Allen Halsey, artist
FIELD OF HEARTS
Location: 119th and Metcalf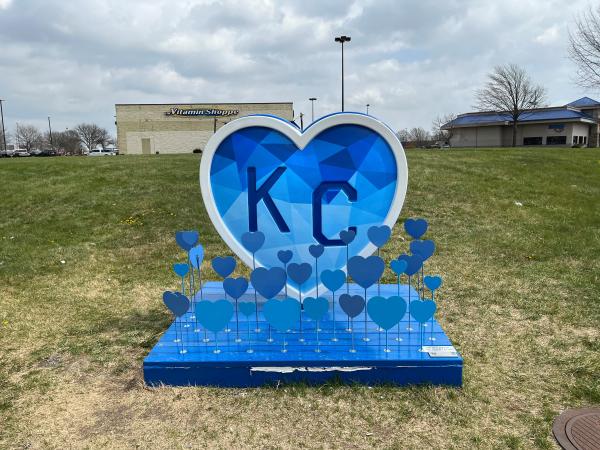 "The true "heart" of Kansas City are the people, culture, and the neighborhoods – represented by the small hearts. It undoubtedly takes each smaller heart to complete the iconic Kansas City heart. The city is BIGGER and BETTER when we come together as one." -- Populous, Inc, artist
Looking for a monthly dose of fun? Sign up for Let's Go OP.  We deliver the best experiences and flavors in Overland Park directly to your inbox.