Chef Aristo of the DoubleTree Hotel in Overland Park puts his family kitchen-style experience up against chefs with extensive formal training on Food Network's "Holiday Baking Championship."
"I baked at home with Mom, creating Sunday lunches after church."
A fourth-generation chef, you could say cooking is in Aristo Camburako's blood. "I learned how to bake in our family's kitchen, and then in our family's restaurants," he said to me during a chat at his hotel restaurant.

Aristo was born in Kansas City, Mo., to Greek parents with a long history of family baking. He has fond memories of baking with his mother each Sunday after they attended their local Greek Orthodox church. Aristo's passion for cooking and baking took off around the age of 12 when he would cook with his Dad for the family's restaurant in downtown KC.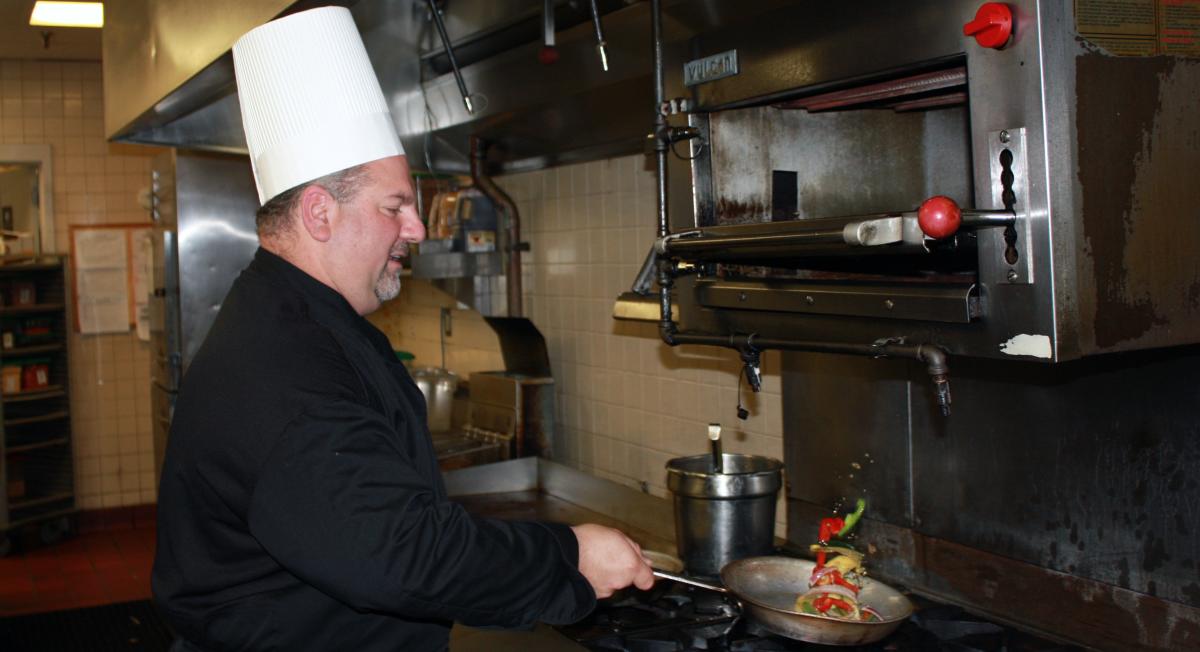 "I've always had two jobs."
After he graduated high school, his family closed the downtown restaurant and purchased Pumpernick's Restaurant and Deli at 95th and Mission Road. Meanwhile, Aristo attended Johnson County Community College in Overland Park where he received his only formal culinary training. "At the same time I'm going to college and working at different hotels, but I'm still doing the family business, too. I've always had two jobs," he said.

After apprenticeships at two local hotel restaurants, Aristo got his first Executive Chef gig at Harrah's Casino in KC. From there, he completed chef stints at Holiday Inn Olathe, Embassy Suites in Overland Park, and Intercontinental Kansas City at the Plaza.

Aristo's chef tour of KC ultimately led him to the DoubleTree Hotel in Overland Park where he currently works as Executive Chef. When it came time to film with Food Network, his boss at the DoubleTree told him, "take all the time you need."
"Baking is about chemistry and it's precise. And I'm really not precise."
So how does one nab a spot on a nationally-televised cooking competition?

According to Aristo, it takes a combination of luck, phone and video interviews, countless photo submissions and several FaceTime cooking demos to complete the audition. "I had to do all of those things to try to sell myself to them… which was fun," he said with a laugh.

Upon getting the news that he made the show, his wife said, "You're kidding me – you're on the baking show?"

While he had always talked of wanting to be on a cooking competition show, he knew his culinary background didn't lend itself to the "Holiday Baking Championship" show in particular.

"I'll go back there and make you a sauce, no problem. I know garlic and oregano and all that stuff. But baking is about chemistry and it's precise. And I'm really not precise," he said.

But despite his lack of precision, "I had a passion for baking" he said, derived from all those childhood years baking alongside his mother and father.

When he arrived on location to film the show, he was immediately greeted by those with far more technical pastry training than he had. "These people were pastry educators, master pastry chefs, home bakery owners – they do this stuff day in and day out, and I really don't. I was thinking, what did I get myself into?"

Will this local baking underdog prevail? Or will he be served with an early dismissal from the kitchen? You'll have to tune in to "Holiday Baking Championship" on Food Network Monday, Nov. 6, to find out.
 
**Eat Chef Aristo's food any time at Trofi Restaurant inside the DoubleTree Hotel in Overland Park**