Kansas and Missouri are in the center of the country – where East meets West and North meets South. With the different ideals merging in this area, it is no surprised that the two states share a rich and intertwined history of race in our country: from escaping slavery, to the fight for equal rights. February is Black History month, so let Overland Park be your hub as you visit many of our area destinations to learn how these sites help formed our nation's collective consciousness and our current understanding of American democracy and freedom.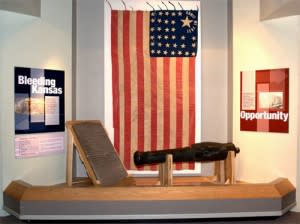 To begin, the Kansas Museum of History in the state capital of Topeka tells the story of Benjamin "Pap" Singleton and the Exodusters. In 1878, Singleton cried "Ho for Kansas!" and urged freedmen to travel to Kansas to escape the oppression of the post-Reconstruction South. That Singleton chose Kansas for this "exodus" was unsurprising. Its reputation as a Free State with abundant land and a population that would welcome African Americans was born prior to the Civil War and grew to mythic proportions during the 1879-1880 period of the Exodusters. However, the idea of Kansas as a bastion of freedom stretched back the territorial period. Beginning in 1854, abolitionists moved to Kansas to make it a free state and, in defiance of federal law, help usher freedom-seeking slaves along the Underground Railroad.
Several sites in Kansas are recognized as National Park Service Network to Freedom sites and tell the story of the Underground Railroad. History tells us that African Americans did not just move through Kansas on the Underground Railroad, they also settled in the state. In 1862, U.S. Senator James Lane broke new ground by recruiting these African-American settlers to serve as a regiment of the Union Army. Federal policy did not allow the arming of black troops, yet under Lane's direction, these men were armed and drilled as the First Kansas Colored Infantry.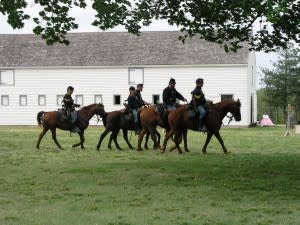 Members of this regiment were the first black troops to see action during the Civil War at the Battle of Island Mound in October 1862. They made headlines in the eastern press and helped change federal policy regarding black troops. Two months later, these black soldiers were officially mustered into the army at Fort Scott. To learn more about the men who fought as part of the 1st and 2nd Kansas Colored Troops, visit the Fort Scott National Historic Site, Battle of Island Mound State Historic Site, in Butler, Missouri and then travel north to the Richard Allen Cultural Center in Leavenworth, Kansas.
Also while in Leavenworth, stop by Fort Leavenworth, where, on September 21, 1866, the U.S. Army formed the 10th Cavalry Regiment. This and other "Buffalo Soldier" units were the first peacetime all-black regiments. The last Buffalo Soldier units were deactivated or disbanded in 1951. Honor these men at Fort Leavenworth's Buffalo Soldier Monument and Circle of Firsts which commemorates the significant "firsts" in the history of African-American soldiers and units in the U.S. Army. Some Buffalo Soldier units were integrated with other units following President Harry Truman's Executive Order Number 9981. Issued on July 26, 1948, this order called for an end to segregation in the Armed Services. Two years earlier, a former Major in the Army wrote to Truman about an attack on a returning veteran, Isaac Woodward, by white policemen. This account, and others like it, prompted Truman to form a civil rights commission. The commission and Executive Order 9981 angered Southern Democrats and spurred them to split with the Democratic Party.
Visit the Harry S. Truman Library & Museum and the Harry S. Truman National Historic Site in Independence, Missouri to learn more about Executive Order Number 9981. During your visit, keep in mind that despite Truman's public support of Civil Rights, he still held traditional prejudices. Likewise, despite Kansas's reputation as a Free State, free did not always mean welcome. An exhibit in Lawrence's Carnegie Building explores the enduring struggles that Lawrence residents, like Wilt Chamberlain and Langston Hughes, faced during their time in the city.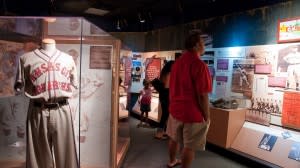 Also during this time period, larger cities such as Topeka and Kansas City, had separate black business districts. While many black business districts throughout the nation have been razed in the name of urban renewal, the 18th and Vine District of Kansas City has gone through a renewal of its own.
To explore the vibrant community that arose here in the face of segregation, visit the American Jazz Museum, the Negro Leagues Baseball Museum, and The Black Archives of Mid-America. The Negro League Baseball Museum tells the story of African American and Latin American baseball players as they played in their own league and explore the daily life of visiting different cities during a time of segregation. The American Jazz Museum shows an amazing expression of black culture through one of their most long-last art forms….music.
The area surrounding Overland Park was home to many great African-American artists. Famous jazz musician Charlie "Bird" Parker was from Kansas City, Harlem Renaissance writer Langston Hughes lived as a child in Lawrence, Kansas and artist Aaron Douglas hailed from Topeka. Douglas is honored with murals at 12th and Lane Streets in Topeka and 9th and New Hampshire Streets in Lawrence.
Visitors to the Freedom's Frontier National Heritage Area must also recognize the monumental moments in history regarding education and segregation that took place in Kansas. Spurred by the 1947 construction of a new all-white elementary school in South Park, Kansas, black parents, teachers and concerned citizens filed a discrimination suit against the school district. A young white Merriam resident, Esther Brown, joined the group and was influential in raising money and awareness and helping put together the lawsuit. In 1949, the Kansas State Supreme Court ruled in Webb v. School District #90 that black students be allowed to attend the new elementary school under a Kansas law that prohibited segregation in small towns.
Visit the Merriam Historic Plaza and Esther Brown Memorial Park to learn more about this important challenge to segregation.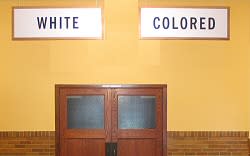 While the Webb case reached Kansas's highest court and challenged segregation on the basis of a state law, the 1954 Brown v. Board of Education ruling was national in scope. Kansas law allowed certain larger cities to maintain segregated schools. In 1950, the Topeka NAACP began to organize a challenge against this law. A group of 13 parents agreed to be plaintiffs in the case and one of them, Oliver Brown, lent his name to the case. When the case reached the United States Supreme Court, the court had four other school segregation cases on their docket and consolidated the cases under the Brown v. Board of Education.
Visit Brown v. Board of Education National Historic Site housed in the African-American Monroe Elementary School to learn about the impact and legacy of this case. Continue to explore the history of this case and the Civil Rights movement in Topeka with the new audio tour "From Brown to Brown: Topeka's Civil Rights Story."
There is so much to explore and discover along the Freedom's Frontier National Heritage Area. It's truly a multi-generational experience and a can't-miss during your travels to the Overland Park area and Kansas City region.
This blog was adapted from an article in the Overland Park Visitors Guide by Julie McPike, Managing Director of the Freedom's Frontier National Heritage Area.