You can find the personality and culture of Overland Park in the many small businesses around town. We talked with the owners and managers behind some of these small shops about their journey and story in bringing their businesses to life and what makes them a shopping destination this holiday season.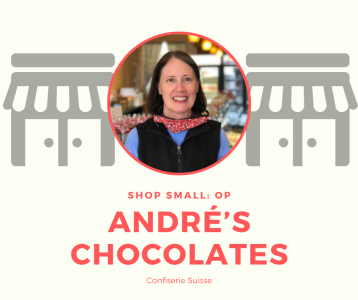 The smell inside André's - Overland Park is reason enough to visit, though the visuals are just as enticing. Sweets sit patiently waiting for you to eat them everywhere you look. Delicate chocolate covered pastries, ornately decorated cakes, and pop-able little chocolates seem to call your name as you walk by the case.
It's no wonder that these expertly crafted desserts come from a third-generation Swiss family of confiseurs dedicated to sharing their craft with the KC Metro. It all started with André Bollier, a Master Pastry Chef in Switzerland who dreamed of opening his own chocolate shop in the States. He opened up shop on the Country Club Plaza in 1955 and found success in a market where luxury hand crafted European chocolates were hard to find. After growing up working in the KC store and training in Switzerland, his daughter Brigitte, and her husband decided to take on a store in Overland Park, 47 years later. They even added a Tea room that serves daily full meals at lunch in addition to the chocolate store.
Brigitte Gravino is Co-owner at the Overland Park store and we chatted with her about the ins and the outs of her family's chocolates biz.
Q: What makes André's unique?
A: It's our family. We all grew up taking trips to Switzerland each year visiting family, and ended up training there to continue the craft. You can see a lot of the Swiss elements reflected in our desserts like the Matterhorn pastry that looks like a bite size snow-capped mountain, and we use Swiss chocolate that we refine here in the store.
Q: What are you known for?
A: We are well known for our chocolate almonds and chocolate candies. We actually had the opportunity to provide chocolate almonds for all of President Obama's events at the White House.
Q: What is your favorite item?
I love our Dobosh, which is a 7-layer yellow cake with chocolate ganache between each layer. (I got to try this as well and agree, it is more than worth the calories!)
Q: What changes have you had to make due to Covid-19 this year?
A: We have had to cut the occupancy in our dining room so we can allow extra spacing. We are also now taking reservations for our dine-in lunch since there are so many fewer spots available. We have heaters for outdoor dining too. One good thing is that our mail order business has taken off. We've seen a huge increase in online orders this year.
The Perfect Gift Item: The Pinecone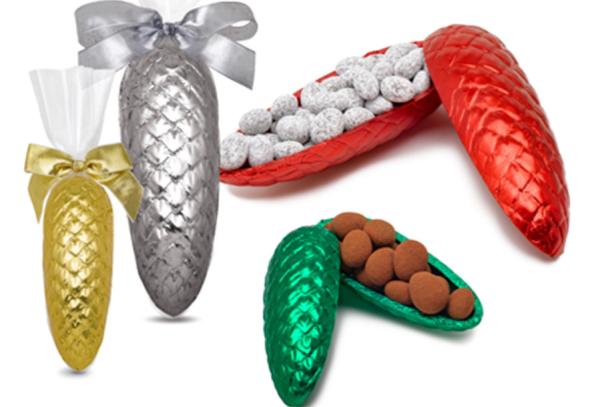 More Ways To Shop Small In OP