You can find the personality and culture of Overland Park in the many small businesses around town. We talked with the owners and managers behind some of these small shops about their journey and story in bringing their businesses to life and what makes them a shopping destination this holiday season.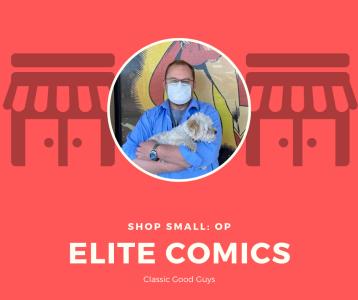 Don't let the name scare you if you don't know the first thing about comics. Elite Comics is a place for the comic book lover to stop by for the latest releases, or for the first-timer to learn what comic books they should start with. (Trust me when I say that there are PLENTY of comic books here to choose from.)
When you walk in, you will see the walls lined with comics and comic collectibles. Elite Comics sells all of their comics guaranteed. If you buy a comic and you don't like it, you can bring it back. One of Elite Comics' most popular, Saga, has never been returned.
Not only does Elite Comics love to help their customers find that perfect comic, but they also love to give back to kids. For every copy of "March" that is sold, Elite Comics donates a copy to a local school. On top of that, Elite Comics has a yearly tradition of donating Christmas gifts to kids who are at Children's Mercy for Christmas. This year, Elite Comics plans on donating $28,000 worth of Christmas gifts, $1,000 worth of gifts for every year they have been open.
We met with the owner of Elite Comics, William Binderup, to get the scoop on what makes Elite Comics so special. Take a peek below at our conversation to see what he had to say.
Q: How did Elite Comics get started?
A: November 2020 was our 28th anniversary, and I have owned it for 26 years. That entire time in this same shopping mall. Before owning Elite Comics, I was in the arcade game business and the original owner of Elite Comics wanted to sell the store. I had been wanting to get into this business, and here we are 26 years later.
Q: What is the most unique thing that you have sold?
A: I had Amazing Fantasy 15 which was the first appearance of Spider-Man, which was a $15,000 comic book. A couple years ago I sold it on Christmas Eve, and now we are always open on Christmas Eve.
Q: What is your personal favorite comic or collectible?
A: My favorite collectible is a signed piece of Frank Frazetta art, but my favorite character is Silver Surfer.
Q: What would you like people to know about Elite Comics?
A: We are the exclusive dealer of Hot Toys in the area. As far as comics, we have 10,000 trade paperbacks in stock and have everything anyone looking for comics would want. We get new shipments weekly and are always buying old collections.
The Perfect Gift Item: March - Book One

More Ways To Shop Small In OP