You can find the personality and culture of Overland Park in the many small businesses around town. We talked with the owners and managers behind some of these small shops about their journey and story in bringing their businesses to life and what makes them a shopping destination this holiday season.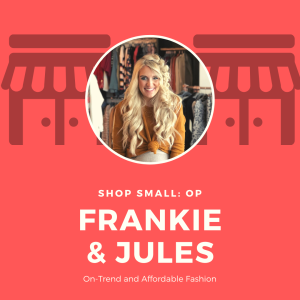 One step inside Frankie & Jules clothing boutique at 159th and Metcalf in Overland Park, and it becomes immediately clear that whatever that perfect piece you are looking for is, you will find it here. From casual basics to stand-out accessories, fashion-forward dresses, and statement jackets, you can find everything you need to style your look from head to toe. 
Frankie & Jules was founded by Overland Park Mother and Daughter duo, Jan Morgan, and Julia Rice. Their dream of owning a fashion boutique first came to life in Jan's basement in 2006. Their success took them to a shop at Quivira Rd., which they quickly outgrew, and in 2015 made their new home in South OP at 159th and Metcalf.
With new pieces added to the inventory every day, Frankie & Jules makes it easy to discover unique and on-trend looks you haven't seen before. They've become a favorite among locals, and have built an enthusiastic following on Instagram (@frankieandjules) where they showcase their latest products.
We sat down with Frankie & Jules Store Manager, Alyssa Miller to learn more about the small business's story and personality.
Q: What makes Frankie & Jules different?
A: Frankie & Jules is a destination boutique for mothers and daughters. The owners wanted to create a shopping experience where mothers and daughters could visit together and find fashions that appealed to both of their age ranges. We also keep things affordable, with almost every item (excluding a few super special jackets) under $100. Our associates are also not paid on commission, so our customer service is truly about finding pieces that work for each customer.
Q: Where did the name Frankie & Jules come from?
A: Jan and her daughter Julia, armed with a degree in fashion, started their dream store in Jan's basement in 2006 and named it using their own nicknames, Frankie & Jules.
Q: What changes have you had to make due to Covid-19 this year?
A: We had to close for a short time back in March, and figure out what changes to make. I spent a lot of time adding items to our website, and even now that we're open again it's become our new norm. I add new apparel every day to the store and site, and post to our Instagram (@frankieandjules) showing a variety of ways each new thing can be worn and styled with other pieces.
The Perfect Gift Item: Camo 'KC' ball cap
More Ways To Shop Small In OP