You can find the personality and culture of Overland Park in the many small businesses around town. We talked with the owners and managers behind some of these small shops about their journey and story in bringing their businesses to life and what makes them a shopping destination this holiday season.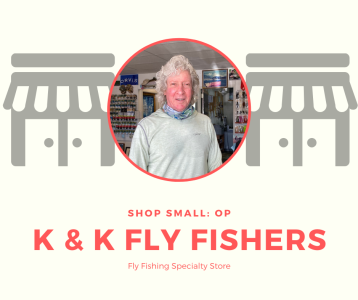 For over 30 years, Kevin Kurz has helped locals catch the big one. K & K Flyfishers found their home in the metro's very first 7-11 which happened to be in Overland Park. What makes this spot so perfect (other than ample room to display their fishing gear and hand tied flys) is the large green space next to their shop that allows customers to head outside to test out their products. 
The green space is important as K & K Flyfishers offers free, one-on-one classes with their customers. These classes answer customer questions from how to use equipment to how to tie a fly. 
We stopped by and chatted with the expert and owner, Kevin Kurz, to get the scoop on K & K Flyfishers. Here's what he had to say. 
Q: Can People Really Go Fly Fishing In OP  
A: We promote that you can catch fish in your backyard. A lot of these neighborhoods and parks have lakes and ponds. There are so many opportunities around here for fishing. I like hitting the good farm ponds around here, and then some of the local streams around here like Indian Creek, Tomahawk Creek, and Mill Creek. 
Q: Do You Take People Fishing 
A: Once you catch everything around here, you will want something more exotic. We host fly fishing trips to anywhere from the Rockies, Alaska, or the Bahamas. 
Q: What Changes Were Made Due To Covid 
A: We have been doing a lot more shipping, and gift cards. For flyfishing, shopping is really a hands on experience. It is a lot of creativity. Our customers want to come out and pick it out themselves. It doesn't do the flys justice to pick your flys out from a catalog. 
Q: What Makes K & K Flyfishers Unique 
A: The people. You are going to get great customer service from experts in fly fishing. When you come in with a question, don't be intimidated with your questions. We have free classes for you to get started in fly fishing or fly tying. Education is always free here. We have products for beginners to all the way up to the experts. 
Go To Product – A selection of flys. 

More Ways To Shop Small In OP