You can find the personality and culture of Overland Park in the many small businesses around town. We talked with the owners and managers behind some of these small shops about their journey and story in bringing their businesses to life and what makes them a shopping destination this holiday season.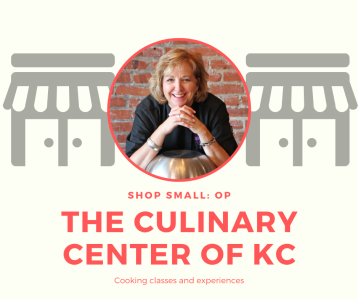 The Culinary Center of Kansas City is many things. It's a place to level-up your kitchen skills at culinary arts classes, spending an evening with family, friends or co-workers cooking and eating a meal together at their group events. The center has been a staple of Downtown Overland Park since they opened in 1998, and a pillar in the community.
Culinary classes are as abundant as the spices. They have everything from one-time classes on the basics, to specialty baking and pastry making, and even a 9-week Professional Culinary Arts Series. The center is a unique experience regardless of your skill level. Their chefs are experts in their craft and make each experience memorable.
The Culinary Center was hit hard by COVID restrictions and made many changes to stay afloat, and they have taken care of their community along the way. They were already offering a teambuilding model called All Hands for Hunger, where corporate groups can cook food to be frozen for a local charity, package them and include words of encouragement and then sit down to enjoy a meal with each other. In June, they started working with various local organizations to provide meals to locals who are in need. Currently, they have started a program with Pete's Garden through its Together at the Table program, to provide 1,000 balanced meals each week to the needy with the help of generous sponsors for each meal.
I had the chance to chat with 'The Main Dish,' Laura Laiben about the ins and the outs of the Culinary Center business.
Q: How did The Culinary Center of Kansas City come about?
A: I always say I am a recovering lawyer. I grew up south of St. Louis and started practicing business law out of law school. My family cooked a lot, and I had always wanted to share cooking with the world somehow. I wanted to create a place to share food for home cooks and people looking to get better, so I taught a few cooking classes at Penn Valley and then opened the Center. We rehabbed the building, it was an old buggy barn before, and I had young kids at the time, so it was a lot, but I enjoyed it. It started off with just cooking classes, but I got some calls to do team building events and I said, "Let's do it!" Then we added retail and frozen take-out food in 2008.
Q: What are you known for?
A: Of course, we are known for our cooking classes and events, but also the Kitchen Boa® which we created and which is now being sold nationally. It's a re-invention of the kitchen towel, that you wear around your neck. It makes it easy to wipe your hands while cooking.
Q: What is your favorite class to teach?
A: I love teaching my Apple Pie class. It reminds me of making pies with my Mom and Grandma, and I think it brings out nostalgic memories for everyone in the class.
Q: What changes have you had to make due to Covid-19 this year?
A: It has been a challenge. Back in March we had to make some big cuts, but luckily with the PPP loans, we have been able to bring a lot of our staff back. We offer both onsite and virtual cooking classes and private events. With one model, we mail everything attendees need in advance and then our chefs teach the class live online with guests at their home kitchens. We've also ramped up our online retail from the Kitchen Shop, and our chef-prepared curbside dinners and created Foodie Gift Boxes™ and CookBetter Boxes™. We were able to re-start in-person classes in the summer with extra safety precautions, and we still offer the virtual option.
Q: What's something you want everyone to know about?
A: We are open for creative holiday parties! It's been a hard year for everyone, so we think people are craving something fun to do, and a cooking party (virtual or in person) could be just that.
The Perfect Gift Item: The Foodie Gift Box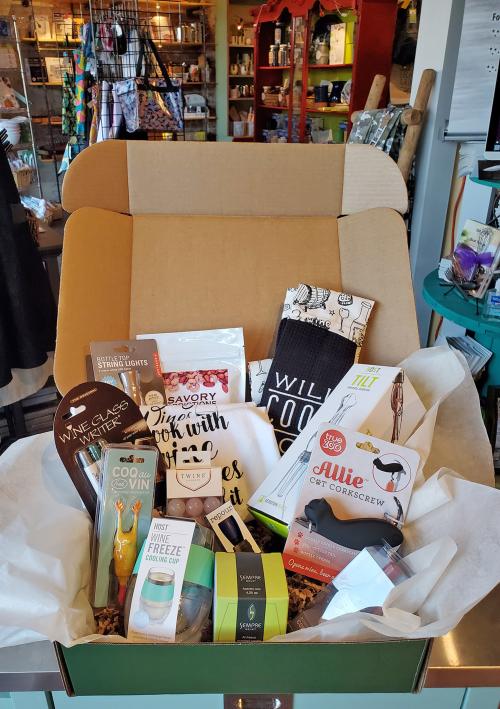 More Ways To Shop Small In OP