You can find the personality and culture of Overland Park in the many small businesses around town. We talked with the owners and managers behind some of these small shops about their journey and story in bringing their businesses to life and what makes them a shopping destination this holiday season.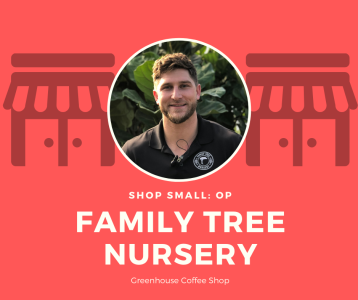 Looking to escape the winter? Don't bother going far, Overland Park's Family Tree Nursery has a new coffee shop, Café Equinox, and it's inside their greenhouse. One step inside feels like a step into Spring. The warm sunlight, the beautiful green plants, and the perfect amount of humidity surround you as you sip a cup of coffee from Kansas City's own Thou Mayest roasters. Those who crave the sun will find their happy place here.
The family-owned plant nursery has been a one-stop shop for gardening needs in the metro for generations, and now a place to sit back, relax and soak up the scenery. It all started with the owner's Grandfather who opened Alpha Floral in Overland Park in 1964, later named Overland Park Garden Center, and now Family Tree Nursery. Several iterations of the store throughout the years have led to the current stores and the stunning visuals from their on-trend creative plant displays make it an inspiring and exciting place to visit. They grow a lot of their plants locally in greenhouses in the area, and source many exotic plants from growers around the country.
We chatted with Store Manager, Jonah Nelson about the ins and the outs of his family's business.
Q: What makes Family Tree Nursery different?
A: It's our customer service and quality of product. We really pride ourselves on going above and beyond for our customers and since we grow a lot of our own products, it allows us to control the quality. We hold classes for designing and learning, we did carry-out service before it was mainstream. We are always innovating and being creative.
Q: What is your favorite item?
A: I really like our combination hanging baskets. We put a lot of love into them each season.
Q: How did creating Café Equinox inside the greenhouse come about?
A: My brothers and I worked for my Dad in the store growing up, we liked plants and enjoyed getting to spend the time with him. I ended up going to K-State and majored in horticulture, and my brother ended up starting Thou Mayest Coffee Roasters. We joined forces in 2019 with the first Café Equinox at our Shawnee store, and expanded to the OP store this year.
Q: What changes have you had to make due to Covid-19 this year?
A: We had to close for a few months at the beginning of it all. We put a lot of work into launching a shopping platform on our website, and then shifted into shopping by appointment as restrictions loosened, and now back to our normal hours in the store.
Q: What's something people might not know about the OP Store?
A: The tree by our parking lot is a State Champion, largest Shingle Oak. We moved it from my Dad's house to keep it with us.
The Perfect Gift Item: Poinsettia or ornament

More Ways To Shop Small In OP