You can find the personality and culture of Overland Park in the many small businesses around town. We talked with the owners and managers behind some of these small shops about their journey and story in bringing their businesses to life and what makes them a shopping destination this holiday season.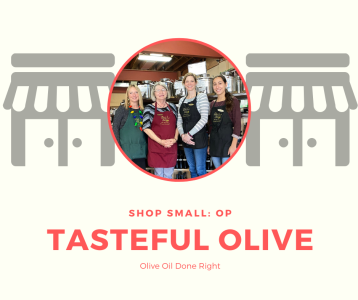 Since 2010, The Tasteful Olive has been helping their customers improve their olive oil and balsamic vinegar game. If you thought the only type of olive oil was EVOO, then you are in for a real experience.
When you walk in and start looking around, you will be blown away by the varieties of olive oils and balsamic vinegars you will find. These range from common flavors like garlic or herbs de Provence to more unique flavors like blood orange or white truffle. 
Oh, and on top of the great taste of olive oil and balsamic vinegar, they also come along with some health benefits. These benefits range from olive oil acting as an anti-inflammatory to balsamic vinegar helping leg cramps.
I sat down with Jeanne Mackay, the owner of The Tasteful Olive, to find out what people should know about her shop in Downtown Overland Park. Here is what she had to say.
Q: What Makes The Tasteful Olive Special?
A: Our customers say "No one ever told me this much about olive oil and balsamic vinegar." We do classes to help educate people, and we will be doing more once COVID is over. The main purpose of our classes is to educate people as to what it tastes like, what the quality is, and how to use it. It is important to us that they can come hear, see, and taste.
Q: What Are Your Best Sellers?
A: In general the Tuscan Herb Olive Oil and the Traditional Balsamic Vinegar are our best sellers and they pair well together. This traditional balsamic doesn't have anything added to it. The only sugar in it comes naturally from the grapes. Some people who start with these two products stay with them a while until they decide to branch out and try any of our 75+ oils and vinegars.
Q: Is There A Product That Is Super Unique
A: Habanero with honey balsamic vinegar. A lot of people will say "Habanero, that's not for me." But, it's definitely unique. It can be used in fajitas when you finish cooking, as it gives them a little bit of sweet and spice.
Q: What Changes Were Made Due To COVID?
A: We have little sample cups that we fill every day so our customers can still sample, but they don't have to touch anything. We also got an updated website to make it easier for our customers to order online.
Best Gift For The Holidays – Holiday Gift Sets

More Ways To Shop Small In OP