You probably already heard the news, but there is a brand-spankin'-new food hall in Downtown Overland Park.
But Strang Hall isn't like all the other food halls. Here you will find a true partnership between chefs. Strang Hall is set up to let each chef have maximum creativity, yet success is found together. What does this mean for you? You can ask any chef or team member for a recommendation and they won't hesitate to guide you, regardless of the storefront they represent.
Feeling a bit too shy to ask what you should eat? The Visit OP staff took a field trip to test out all the food options to give you a better idea as to what to expect.
Brad
Restaurant - Solstice
Type of food - Unique, seasonal, healthy
Dish tried - Chickpea chop salad
Describe what was good about it in a couple of sentences - Very light and very fresh. When a salad comes already 'dressed' it's easy to overdo it and you don't taste anything beyond the dressing. Not so here. The citrus vinaigrette was very subdued and brought out the flavors of the peas, cucumbers, tomato, avocado, red pepper, etc.
Katie
Restaurant - Fond & Solstice
Type of food - Upper scale traditional food & seasonal nutritional food
Dish tried - Patty melt & berry business smoothie
In Fond's patty melt, Kansas City beef, cheese, grilled onions, and mushrooms come together in a deliciously melty medley served on rye bread. The well-seasoned sandwich is warm, comforting, and full of flavor. With a side of crispy potato wedges, this lunch hits the spot. At Solstice, this impressive smoothie wows in all aspects: color, flavor, and being healthy! The variety of berries combined with mint brings a freshness that is both satisfying and somehow still leaves you wanting more. I drained this smoothie to the last drop.
Toshia
Restaurant – Norcini
Type of food – Italian sandwiches, pizza, and salads
Dish tried – Garden salad and incendio pizza
Salad was fresh, not a single wilted leaf. Tomatoes were chilled and fresh. Vinaigrette was made fresh and covered the salad in the perfect proportion. Pizza was big enough to share; the crust was thin and crispy (but not dry and flaky) and the proportion of cheese to sauce to crust was just right!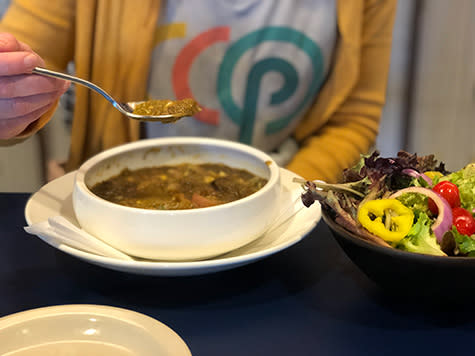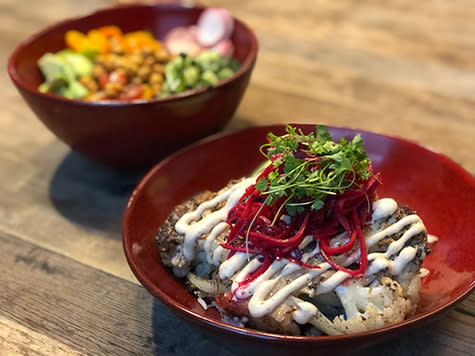 Collin
Restaurant – Anousone
Type of food – Southeast Asian comfort food
Dish tried – Khao Poon
I love to hear what the chef recommends, especially at someplace new, so that is just what I did. Chef Anourom Thomson described in detail why he recommended the Khao Poon. This was like nothing I have eaten before. A little bit like curry, a little bit like ramen. This dish was packed full of flavor paired with the perfect level of heat. 10/10, would recommend.
Amy
Restaurant – Fond & Norcini
Type of food – Comfort food & pizza/sandwiches
Dish tried – Pork stew & side salad
Fond does not disappoint when they claim "thoughtful, inspired, familiar." The Pork Stew was just that. I selected Pork Stew because it was a cold and blustery day and I was looking for something warm and comforting. This dish delivered but took my expectations up a notch with the Verde they add to their stew sauce, giving it a nice and unexpected kick. Plus, this stew is gluten-free – a rare find. Norcini's side salad was nicely dressed and offered some tasty ingredients.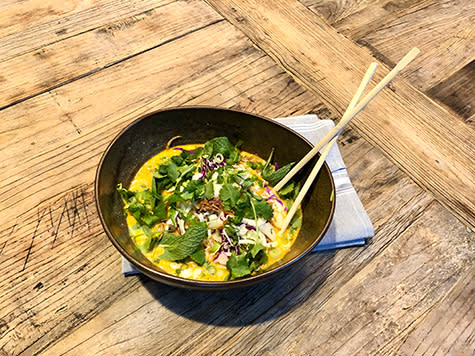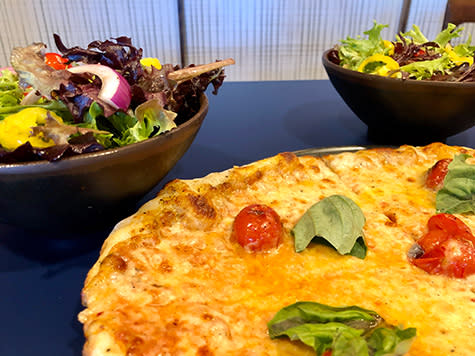 Suzanne
Restaurant - Nida
Type of food - Tacos
Dish tried – Two taco plate (fried shrimp & crispy eggplant) with a side of elotes
Nida Taco's Elotes Skillet (sweet corn, roasted peppers, cream cheese & parm) was a crowd-favorite. Everyone tried it and went back for more. Served with fresh tortillas, it has a spicy finish, but not so much that it overpowers the corn & pepper flavor. This would be a great dish to order for a group!
Theresa
Restaurant - Basabasa
Type of food – Legendary chicken
Dish tried – Crispy chicken sandwich and roasted broccoli salad
I haven't stopped thinking about the crispy chicken sandwich since the moment it left my lips. The combo of Dijon mustard, mayo, and perfectly crispy chicken are a home run. The roasted broccoli salad was as beautiful to look at as it was delicious to taste.