There's no shame in skipping dinner to go straight to dessert, especially if said dessert is a tempting treat from The Upper Crust Pie Bakery in Downtown Overland Park. The neighborhood bakery claims its pies are "as good as grandma's", and you won't find any arguments here. A mix of classic and seasonal flavors are available in large and miniature pies, so you can get the perfect amount - depending, of course, on if you want to share!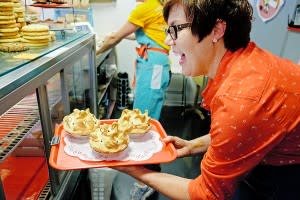 The Culinary Center of Kansas City draws experienced and nouveau cooks alike for its acclaimed cooking classes and well-stocked kitchen shop.
Hankering for a good steak? J. Gilberts Wood-Fired Steaks & Seafood serves Midwestern raised, USDA prime aged black Angus beef cooked over and open wood fire grill. This upscale Overland Park gem is located on the main drag of Metcalf Ave. 
Nick & Jake's is an Overland Park original (now with two other locations in the metro) and a gathering place for sports-watching and from-scratch food - memorable appetizers, entrees and desserts.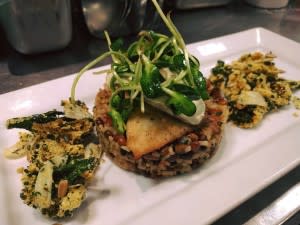 The adjoining West Bottoms, a historic area that once served as the heart of Kansas City's stockyards, is undergoing a renaissance.The polished ambiance of Voltaire will make you feel as if you're ensconced in the glamour of the past. A stellar menu and perfectly made cocktails complete the experience.
You might not expect to find a winery in the heard of the city, yet Amigoni Urban Winery will introduce you to a variety of wines made from grapes grown about 45 minutes east of Kansas City. Beer tastings are available, too, in case you're traveling with someone who's vino-averse.
Ready for an adventure off the beaten path? In Kansas City's River Market district, a gem awaits: Local Pig, a locally owned butcher shop that offers steaks, chops, sausages, charcuterie and more. You'll work up an appetite while you're there, so step next door for a sandwich at Pigwich, a food truck that's found a permanent home. Signature sandwiches are served seven days a week, and selections change often.
Downtown Kansas City's Crossroads Arts District is the epicenter of Kansas City's creative community, and it's also home to some incredible restaurants. From authentic Italian dishes at Lidia's in the Freight House District, adjacent to the Crossroads and contemporary German cuisine at Affäre to fine dining at Michael Smith or late night eats at Town Topic, there's something for everyone.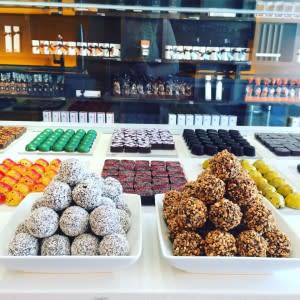 Don't miss a chance to swing by Christopher Elbow Chocolates, which features an incredible assortment of handmade chocolates almost too pretty to eat. During the colder months, warm up with an indulgent cup of drinking chocolate - and don't forget the handmade marshmallows on top!
Really want to get to know the food in KCOP? Check out some of these great food tours.
Written by Katy Schamberger Christopher Elbow Chocolates photo: Facebook