Experience It: The Brass Onion's Un-(Mr.) B-lievable Fried Chicken
A server bursts through the swinging door to the kitchen of The Brass Onion in Prairiefire and calls out: "Three-piece walking!"
That's the cue for the fry cook to wash, dredge, shake and drop the battered pieces of Mr. B's Fried Chicken into hot vegetable oil. The chicken quietly burbles for between 15-20 minutes, depending on the thickness of the breast.
The crispy golden breast, thigh, and leg are served with tender, braised collard greens, luxuriously creamy mashed Yukon potatoes with the skins still on and a side of gravy. Each order also gets a generous square of cornbread topped with honey drizzles and sugar sprinkles that have been caramelized in a blast heat of a pizza oven and then finished with a dollop of whipped butter as plates are whisked to eager diners.
Kansas City's most iconic food is barbecue, but mouthwatering fried chicken surely runs a close second. Fried chicken joints were ubiquitous starting in the 20th century, offering a heaping helping of Southern hospitality served up at roadside eateries as automobiles and the strains of jazz brought tourists to the nation's midpoint.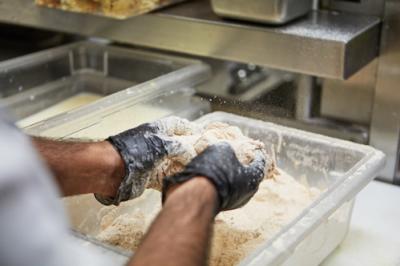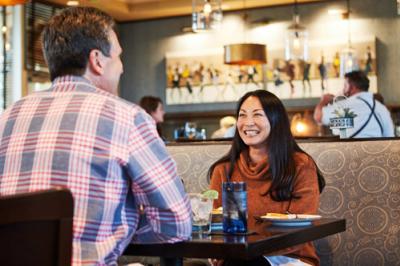 A whimsical piece of art just to the left of The Brass Onion's front door depicts waiters amid a jazz ballet, the central waiter carrying a brass onion on a plate. At the last table in the righthand corner of the painting, there's a blue silhouette of a man with his arms crossed.
"He had a very particular posture," Andrew says of his grandfather Nate Brancato, famously known as Mr. B.
The Brancato family is renowned in Kansas City for three generations of legendary catering prowess. Mr. B's Fried Chicken is based on a 50-year-old family recipe and likely one of the oldest around town. Each month, the catering company serves up thousands of pieces, executing seated dinners as large as 6,000 guests and buffet tables for 14,000 guests.
As a member of an extended Italian family, Andrew Brancato grew up thinking fried chicken was as American as spaghetti or lasagna, and of course, the combination was — and still is — on display at the family's Sunday dinners. When Andrew and his father Mario decided to open the restaurant in 2018, they were eager to pay tribute to their culinary success.
"My whole life we served it, and when we decided on our concept, I think we knew we had some of the best fried chicken around," says Andrew, who started helping with the family business at age 13 and has worked with his family to grow the catering business by 500%.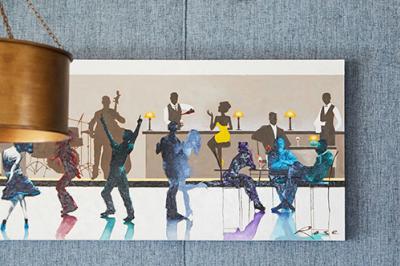 Mr. B's Fried Chicken undergoes a 24-hour brining process to plump and tenderize the meat. The pieces are dried, washed, and dipped in a high-gluten, seasoned flour whisked with a blend of dried herbs and spices and just the right balance of salt and pepper.
"A lot of people can make a crispy, fried chicken, but it's the brine that makes it juicy," says Jerry Baber, a diehard Mr. B's fan. "And the cornbread is a step above, the way they finish it on the top, coupled with whipped butter!"
"It's moist inside and crunchy outside," agrees Chip Toth, who is seated at a nearby table. "I just cut into the chicken and see the juices flow. I'm also a big fan of the cornbread. That's like my dessert."
A craft bar offers cocktails and local beer selections. But ask Andrew Brancato which beverage pairs best with Mr. B's and he'll instruct a server to crack open a Pabst Blue Ribbon Tall Boy.
Unlike many downhome fried chicken places with standard country decor, The Brass Onion offers a modern and spacious 4,000-square-foot dining room and patio. The handsome, dark wood provides a backdrop for whimsical art, including a pig's portrait and a rare sketch of Dr. Suess' "Green Eggs & Ham."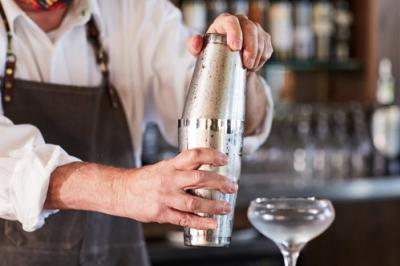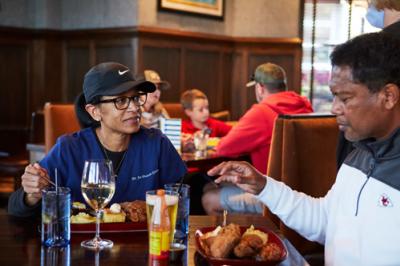 The Brancato family emigrated from Italy through New Orleans, so it makes sense the menu focuses on refined Southern Low Country dishes like gumbo, jambalaya pasta, Low Country macaroni and cheese, NOLA BBQ shrimp and shrimp and grits.
"People love Southern food. It's fun, comforting. And who doesn't like fried chicken?" Andrew Brancato says.
Mr. B's Fried Chicken is served with Charleston-braised collard greens, a recipe gleaned from a former dishwasher who taught a former chef how to slow simmer the greens with ham hocks until they are soft and tender with just a hint of smoke.
The mashed potatoes are smooth and unctuous, made with Yukon Gold potatoes that include the delicate skins. The mash is so good it almost doesn't need gravy, but since it's served on the side you can control the amount.
But if fried is not your style, there are additional chicken-inspired dishes on the dinner menu, including deviled eggs, smoked KC jumbo chicken wings, and hot chicken sliders. For those who may have given up fried chicken for better health, the Obedient Bird is a half brick chicken served with Deep South farro, natural herb jus, sauteed green beans, and shallot.
"This chicken is fabulous! It's juicy and crispy," says former Chiefs player J.C. Pearson as he tackles a plate of the fried chicken. "It seems that they've got a good combination going on, too, with the cornbread. It's sweet but not too sweet. And with the honey and butter, it's kinda real close to cake."