Experience It: Museum at Prairiefire
Dichroic Glass is a Symbol of the Kansas Prairie with a Nod to NASA
On a sunny fall afternoon, a bridal party disembarks from a hired trolley and poses for a wedding portrait in front of a striking dichroic glass façade designed to symbolize fire on the Kansas prairie.
The 42,000-square-foot Museum of Prairiefire is one of the first buildings in North America to feature a dichroic glass exoskeleton made by stacking layers of glass with micro-layers of metals. The result is an array of iridescent colors that shift when struck by light.
Since opening its doors in 2014, the museum, which was designed by Boston architect Jonathan Kharfen of Verner Johnson, Inc., has become one of the most photographed landmarks in Overland Park.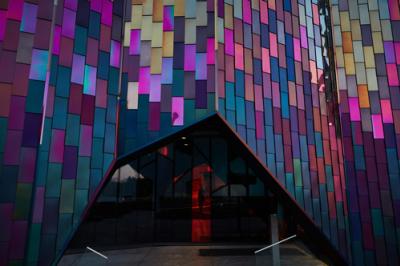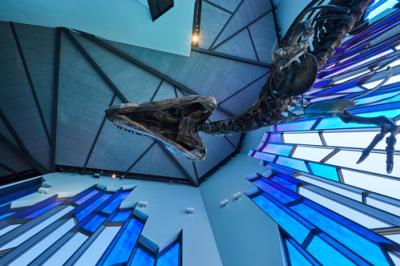 "The Museum at Prairiefire is about all things Kansas and natural history," says Terri Thompson, the museum's executive director. "Dichroic glass simulates the prairie fires that burn across the earth and refurbish the natural landscape."
Each spring In the Flint Hills of eastern Kansas, ranchers burn swaths of the prairie to clear invasive species and spur new growth for grazing herds of cattle. The technology required to create the flame motif was developed by NASA.
Inside the front doors, visitors can view an Apollo Lunar Extravehicular Visor Assembly (LEVA). The astronaut's helmet visor displays a protective film coating made by vaporizing 24-carat gold to filter out harmful light waves. The artifact is on loan from the Cosmosphere in Hutchinson, Kansas, to help commemorate the 50th anniversary of the Apollo 11 moon landing.
The Museum of Prairiefire routinely displays traveling exhibitions created by other museums. There's also a Discovery Room where children ages 3-12 can hold a tarantula or a meteorite in the palm of their hands.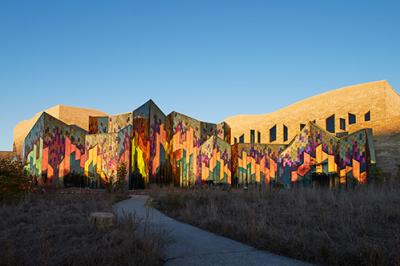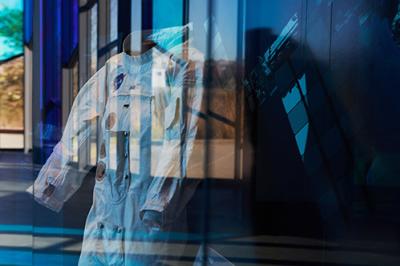 Don't forget to check out the small permanent exhibit exploring the basics of space travel, including answers to such curiosities as what astronauts eat and how they go to the bathroom in space.
In the late afternoon light, notice how the sun casts gorgeous dusky blue and gray, bar-shaped shadows onto floors hewn from Kansas limestone. In the Great Hall, watch as the light and shadow fall on a monstrous T-Rex skeleton.
Take a short walk around the building's grounds, which are landscaped in native prairie grasses. Search for fossils in the limestone foundation.
As the seasons continue to morph, brides and grooms, high school students in their homecoming or prom finery, and young families seeking to mark a moment in time will continue to pose in front of this unique Kansas backdrop.
So, what are you waiting for?
It's your turn to snap a photo and take a moment to put yourself in the museum's Instagram gallery. Don't forget to use the hashtag #museumatprairiefire. We'll see you there.