Experience It: The Magic of Bocce at Pinstripes
The crisp, cracking sound of grapefruit-sized wooden bocce balls crashing into one another is barely detected above the hearty cheers of onlookers watching a game on Pinstripes' second level. A mix of young and old competitors on the bocce court administer high-fives to teammates, grabbing a slice of wood-fired pizza before resuming the game.
If good-natured competition combined with an opportunity to be social is your jam, Pinstripes at Prairiefire has perfected the recipe for a day or evening of relaxation. Sporting an Italian-American flair reflected in the chef-driven cuisine, drink, and two games it offers — bocce and bowling — Pinstripes is an experiential, upscale-casual destination in Overland Park.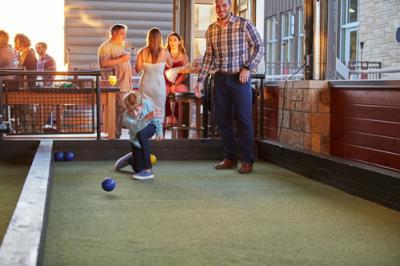 Not familiar with bocce? It's been around for centuries, favored by the Egyptians back in 5000 BC before the game spread throughout Europe, earning a particular fondness with Italians and hopping the wide expanse of ocean to America in the 1900s. With few rules and a bit of strategy, simplicity is the uncomplicated game's beauty, making it one of Pinstripes' most popular attractions. Often called Italian lawn bowling, bocce is enjoyed by all skill levels on three indoor regulation-size bocce courts, each accommodating up to 10 people.
Food, drink, and bocce are a fun way to connect with family and friends," says Pinstripes' general manager Caleb White, a self-described bocce enthusiast who often explains the basic rules to novice players.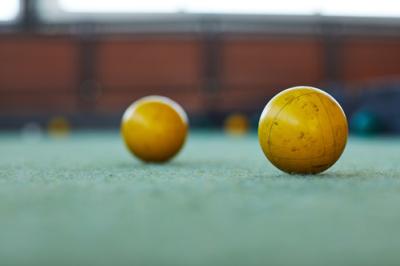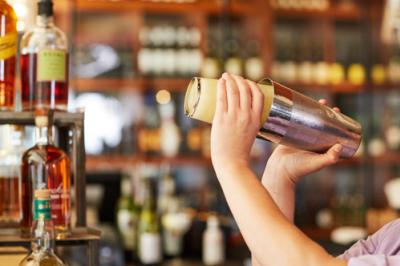 Bocce's two teams are comprised of one, two, or even four players. A game begins with a member of one team throwing a small ball, called the pallino, from one end of the court to another. Teams then switch off throwing larger balls, called the bocci, at the pallino. For players with good aim, the first ball should stop in front of the pallino. After all team members have thrown the balls, the team closest to the pallino wins the point. Two points are earned if a team's ball touches — or "kisses" — the pallino. Neither team scores if the bocci is equidistant from the pallino, The team reaching the set point goal first — 12 or 16 is typical — is declared the winner.
Pinstripes' second level bocce court affords a bird's-eye view of Overland Park's suburban skyline and Prairiefire's sparkling nighttime street scene. If you're observing the action, settle into one of the Adirondack chairs scattered around a firepit on the open-air patio for a front-row seat.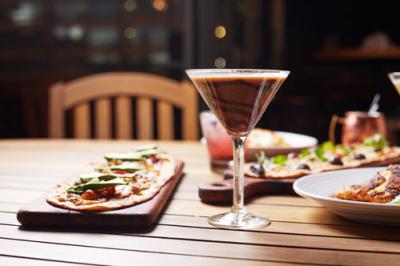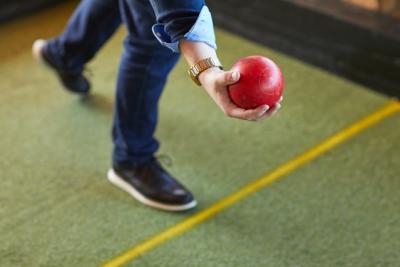 Delicious from-scratch dishes, craft cocktails, and a well-curated wine list tempt bocce players, bowlers, and those just hanging at Pinstripes for the low-key vibe. Guests scattered throughout the expansive play games, lounge at comfy bars, or enjoy leisurely meals in a spacious bistro with indoor-outdoor dining options. Event rooms are available for private celebrations.
Lunch, dinner, weekend brunch, and happy hour menus appeal to diverse tastes with favorites like chicken parm, wood-fired pizzas, and a prime-rib dip on a pretzel bun. Servers often recommend their personal "Pinstripes trifecta": a Moscow mule served in a traditional copper mug, tenderloin sliders, and chicken-avocado flatbread or perhaps an Italian pinot grigio paired with tomato bruschetta and a hummus duo.
Kids have tasty choices, too, ranging from mini cheeseburgers, a variety of pasta, chicken tenders, pizzas, and more.
However you choose to spend time at Pinstripes, one thing is certain: rolling a ball down a bocce court inspires fun and is guaranteed to create fond memories.