Experience It: It's a Dog's Life at Rock & Brews
Canines Woof It Up During Leash-lurely Lunches at Pet-Friendly Eatery
It's good to be a spoiled pooch at Rock & Brews in Prairiefire, one of Overland Park's most pets-welcome restaurants. Just ask Gracie, a chill, 2 ½-year-old Red Heeler mix rescue and a regular at the family-friendly eatery.
Paws politely crossed, nose twitching, ears perked for interesting sounds, Gracie settles in on a balmy fall Friday afternoon with lunch companion Mavis, an elegant Weimaraner. With a soundtrack of classic rock and roll music videos playing on giant television screens scattered throughout the restaurant, the dogs lounge on the concrete floor in the sun-splashed, climate-controlled covered patio, patiently waiting for made-to-order meals from a custom menu.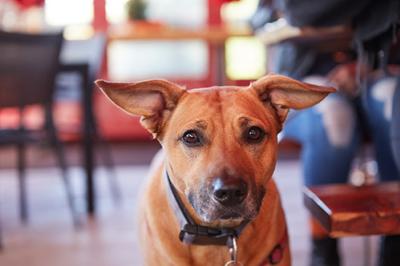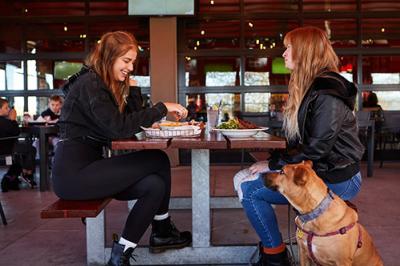 Casually surveying the bustling scene around them, the pals lean into occasional head scratches administered by their humans, Dan Butler and Jason Rawlings. Rock & Brews server Maddie delivers Gracie a Bow-Wow Burger, who promptly sniffs and then gobbles up the patties while Butler digs into a Rock & Brews VIP salad from the people menu.
"Gracie and I have been coming to Rock & Brews since she was a puppy," says Butler, adding that he always seeks out opportunities where Gracie can tag along. "The staff is terrific; the food and craft beer selections are great, and they have a healthy doggie menu."
Placing a bowl in front of Mavis, Maddie watches her eagerly dive into Addie's Feast, a hearty mix of roasted chicken, brown rice, sweet potato and roasted veggies. Rawlings munches a Front Row pizza made with artisan dough as his pup chows down.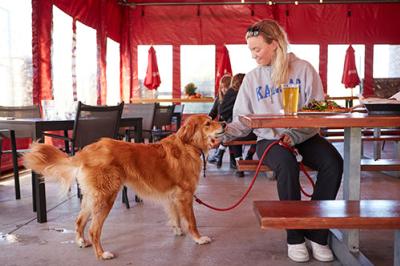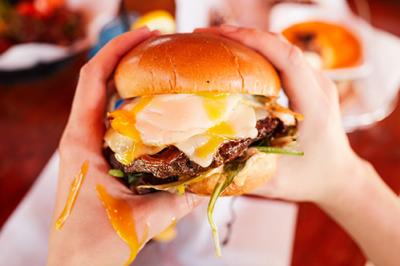 Rock & Brews serves American classics with a spin for lunch, dinner, happy hour, and Sunday brunch, with many dishes bearing references to its rock-and-roll roots. After all, two of the restaurant's five founders are Gene Simmons and Paul Stanley, legendary KISS band members.
Crowd favorites include Sgt. Peppers Jalapeño Poppers, Rockin' Nachos, the Hotel California Cobb, Buffalo Springfield VIP Pizza, Benny and the Jets and more. In addition to Bow-Wow Burger and Addie's Feast, pupular dog selections include Bird Dog Chicken — made from the same quality chicken that is served to humans — chopped and served sans sauces and sides, and Barkin' Bacon.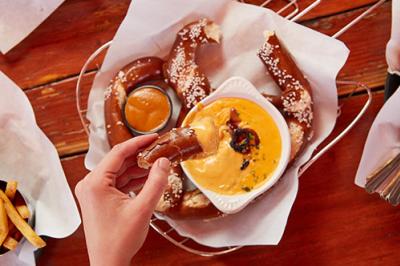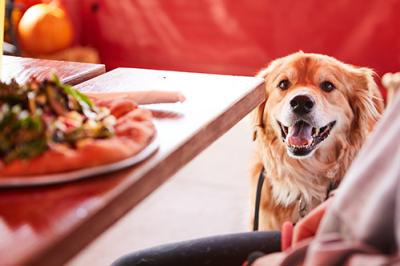 Across from Gracie and Mavis, first-timer Aggie wags her tail as Maddie plops down the Bow-Wow Burger at her feet. Emily Wallace, Aggie's owner, enjoys the Tequila Sunrise Fire-Grilled, Spicy Rubbed Steak while her sister, Ariana Pelzer, dips a giant Authentic Bavarian Pretzel into spicy-sweet mustard, slipping Aggie a generous chunk of the soft pretzel.
"Aggie loves people, food and other dogs, so this is a perfect outing," Wallace says. "I'm surprised at how well-behaved all the dogs are — it's like a dog park, only with good food."
Butler appreciates the genuine welcome mat the Rock & Brews crew puts out for his beloved canine.
"Before Gracie, I had a yellow lab named Molly, who loved Rock & Brews, too," he says. "Life is just more fun when your dog comes along."