Overland Park is undefeated at barbecue. 
Q39 is celebrating their first championship after beating McLain's Market by 226 votes on Sunday night. It was high-stakes and no drama. 
Q39 dominated the field of 64 in 2021 Munch Madness declaring them "the best restaurant in Overland Park." The dance wasn't an easy one for Q39. Its first game was against archrival Fiorella's Jack Stack Barbecue. But only one could survive and advance to the next round up against another barbecue favorite, Plowboys Barbecue. Fans were cheering behind masks as their mouths watered over that much barbecue stacked against each other. Entering the Sweet 16, Q39 faced off with an early favorite, J. Gilbert's Wood-Fired Steaks & Seafood. Big Surf and Turf left, and Q39 went on to face the Cinderella team, Hot Basil Thai Cuisine, who was hot coming off a win from the fandom of ABC Café.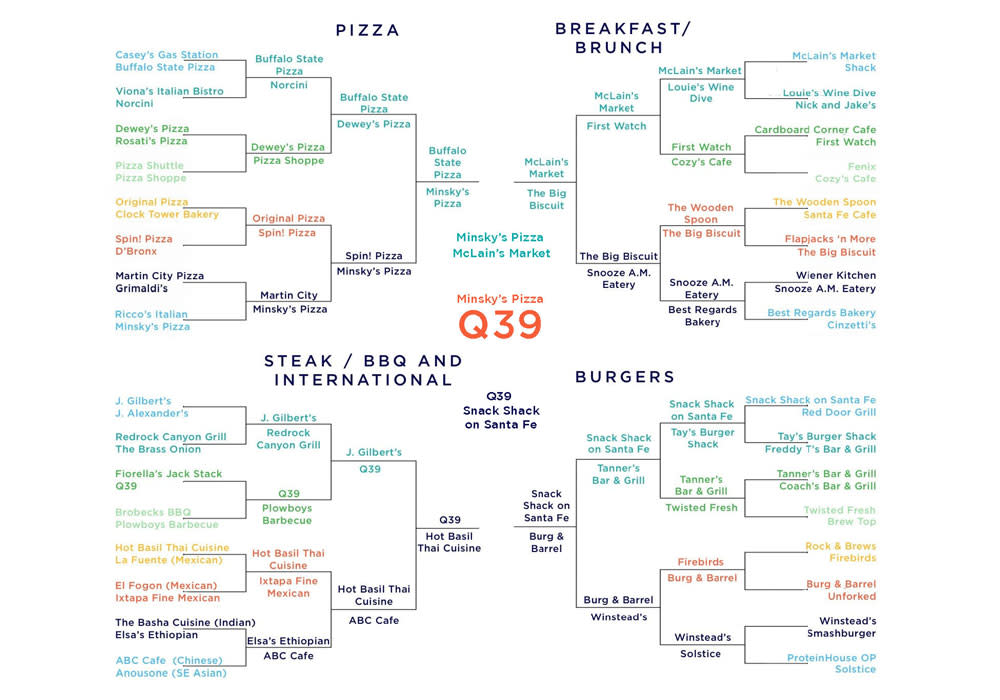 Q39 entered the Final Four with McLain's Market, the Snack Shack on Santa Fe, and Minsky's Pizza, a tough draw considering everyone loves breakfast, burgers, and pizza. Q39 played smart by leaning into its home-court advantage at the Barbecue Capital of the World, which led to the Munch Madness Championship – Q39 versus the hometown favorite, McLain's Market. 
It was Q39, in the end, that crowned Overland Park king of barbecue. They're not quite Cinderellas, but they sure do look pretty with that crown. 
McLain's Market, Minsky's Pizza, and Snack Shack on Santa Fe each won their division. There's always next year.  
More Foodie Blogs
Eat Your Heart Out