About Overland Park
Overland Park traces its roots back to 1905 with the arrival of its founder William B. Strang Jr., who platted subdivisions, including one named "Overland Park," along a military roadway southwest of Kansas City. Before Strang's death in 1921, he established several housing developments, an interurban railroad and an airfield. You can see remnants of his interurban line in Downtown Overland Park today, along with his limestone car barn at 79th and Santa Fe Drive and his Carriage House at Thompson Park. The paper airplane stage at Thompson Park is a nod to the airfield that occupied the space.
On May 20, 1960, Overland Park was incorporated as a first-class city, bringing major developments to Overland Park, including many residential subdivisions including Metcalf South Shopping Center, Corporate Woods, Oak Park Mall, and the early days of Deanna Rose Children's Farmstead. During this time, the city built a new City Hall and moved many operations to Santa Fe Drive and Antioch, where City Hall is today.
During the 1980s, the city experienced a boom in commercial and residential development. By 1988, the city's population passed 100,000. During the 1990s and 2000's Overland Park has focused on renovating community-wide areas and a strategic vision for the future as a whole.
The nationally-recognized city encompasses 75.6 square miles of Johnson County, and has more than 200,000 residents, making it the second most populous city in Kansas and metropolitan Kansas City. Overland Park has achieved many awards including, "Happiest Cities in the U.S." by WalletHub, "Best Place to Raise a Family" by Niche, and "Best Places to Live" by Money Magazine. Overland Park is also the hometown to Jason Sudeikis, Paul Rudd, Rob Riggle, and Tom Kane.
Weather In Overland Park
It's time to pack your bags for your trip! We all know the struggle of over packing, your suitcase can only accommodate so many types of weather for one trip. Being smack dab in the middle of the Midwest, you are likely to see a wide range of temperatures and precipitation types, all in one week.
To make the packing process a bit easier for you, check out our month by month weather chart for Overland Park.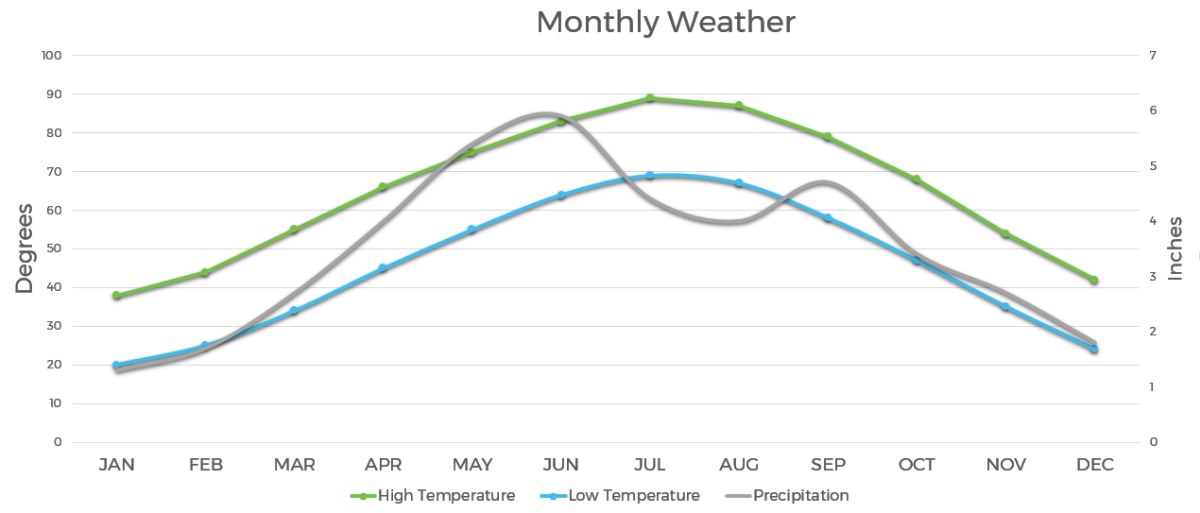 No matter what the weather is, there are plenty of things to do in Overland Park. On a warm day, spend some time outside at the Overland Park Arboretum or strolling through the Downtown Overland Park shops. If you need to stay inside you can spend some time at The Lego Store inside Oak Park Mall, or hit the links in a temperature controlled bay at Topgolf.