Meet Our Team
Whether you're a visitor or a meeting planner, you'll will fall in love with Overland Park and all that our city has to offer. Shopping, excursions and best-in-class dining make Overland Park one of the most beloved cities in the Midwest. If you're executing an event or if you need a recommendation, the Visit OP team is here to lend a helping hand. But first, here's a quick introduction to the team: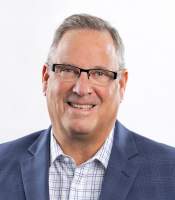 Warren Wilkinson

President
A passionate travel and tourism advocate he serves as President of Visit Overland Park. Prior to his joining the organization he served in senior roles with several advertising agencies including Kansas City based Barkley, leading the travel and tourism practice as well as serving as Managing Director for the global travel and tourism practice at MBuy. He also served as Chief Marketing Officer for Choose Chicago where he helped lead the consolidation of tourism efforts for the city of Chicago into one entity from three and permanently increased the annual budget by $18 million dollars via additional state and city resources. At Choose Chicago, he led the marketing effort to increase tourism for Chicago resulting in 2012 visitation to Chicago totaling 46.37 million visitors, a 6.2% increase from 2011. The growth was fueled by a significant increase of 10.2 percent in overnight leisure visitation (which exceeded the national growth rate by three percentage points). International visitation to Chicago rose 14.2% in 2012 more than twice the national average. Additionally, he led the redesign and digital consolidation of Chicago's visitor focused web presence to the ChooseChicago.com website. This new multilingual site saw a 250% growth in visitation to over five million annual visitors. Prior to joining Choose Chicago, Wilkinson served as the Senior Vice President of Marketing and Communications at Visit Indy, responsible for directing the marketing and communications efforts for the official destination marketing organization for greater Indianapolis. Mr. Wilkinson has more than 20 years of experience in the airline industry, having served in key senior marketing and communications positions for national and regional airline companies. From 2001 through 2008 he served as Vice President of Marketing, Communications and Government Affairs for Republic Airways, second largest regional airline in the world. Warren lives in Leawood, Kansas with his wife and kids but on the weekends can be seen at Overland Park's Scheel's soccer complex watching his son play soccer or Lacrosse or at Oak Park Mall with his wife enjoying watching their daughter perform at Culture House.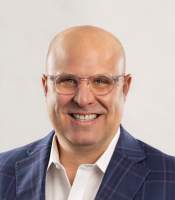 Eric Olson

Vice President of Sports Tourism & Events
Eric has 20 + years of experience in sports marketing, including leadership positions with Eat Sleep Breathe Lacrosse, National Association of Intercollegiate Athletics (NAIA) and Golf Course Superintendent Assoc. of America (GCSAA). Eric brings with him a deep knowledge of the nonprofit and sports tourism industries through the lens of Rights Holders, National Governing bodies, Sports Commissions, Convention & Visitors Bureaus, and Local Organizing Committees. Eric has served on various boards nationally and locally including the National Association of Collegiate Directors of Athletics Executive Committee, USOPC (United States Olympic & Paralympic Committee) Multi-sport Organization Committee and was instrumental in the formation of the Lacrosse Association of Kansas City. He has been a featured speaker and panel guest at various conferences and institutions regarding sports and event management. He is a graduate of Missouri State University where he earned a bachelor's degree in Marketing and resides in Leawood, KS.
Katie Walkley

Director of Administration
As Director of Administration, Katie provides a wide range of support for the organization – including financial management, strategic initiatives and overall operations. Katie joined the Visit OP team in 2018 and greatly enjoys working in the tourism industry. Prior to joining Visit OP, Katie served as the Government Affairs Manager for the Home Builders Association of Greater Kansas City – conducting advocacy efforts on the local, state and national levels. She grew up in the metro area and immediately returned after college, mostly due to a love of BBQ, live jazz and football. If she's not working her magic at Visit OP, you'll find her dancing with the swing community, baking for friends and family (and colleagues!) or embarking on a new house project.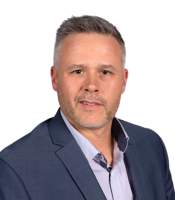 Chad McFarland

Director of Sports and Hotel Services
Chad comes to Visit Overland Park as the Director of Sports and Hotel Services. Originally from Winfield, Kansas his college career took him to Kansas State University in Manhattan, Kansas where he earned his bachelor's in education. He ultimately moved to Overland Park in 2005. Before Visit OP, he served 14 years in public education and achieved his master's degree in leadership, finishing his career as a building Administrator for the largest Alternative Education Program in Olathe. He then pivoted his interest to sales & marketing. He began working in real estate, building a new brand through marketing strategies and social media campaigns in the Kansas City area. Some of his additional works include marketing contributions for the AdventHealth Championship golf tournament. Chad has also served for 3 years as a business development and strategy consultant for Nucleus Training Solutions, a workplace training curriculum developer in Overland Park. He continues to provide intermittent consultation services to Nucleus Training Solutions today. Currently, Chad is the 2023 Vice President and long-time Board of Directors member at The 3&2 Baseball Club of Johnson County and was recently voted onto the Board of Directors for the Kansas Sports Officials Association by his colleagues. Chad also has an extensive and successful sports officiating career, serving both sides of the state line in high school and collegiate football, baseball, and basketball. Chad now lives in Olathe, Kansas with his wife and four boys. Their evenings and weekends are usually spent on the baseball diamonds, mountain biking, motocross or at RoKC in Olathe.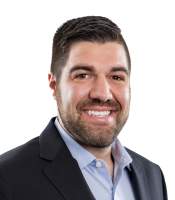 Spencer Scheve

Digital Marketing Manager
Spencer is the face behind our growing website and CRM programs and always enjoys the challenge of new projects. Prior to joining Visit Overland Park, he spent time at Informa, MMGY, H&R Block and TreviPay focused on email marketing, media campaigns and web management. Spencer has experience in the tourism and travel industry working on brands such as Visit Kansas City, Visit Santa Monica, Trump Hotels, Go Hawaii, Visit Houston, Ponant Cruises, Visit Costa Rica and Visit Sonoma County. His passion for the travel industry brought him back to Visit OP. He is born & raised in Kansas City and has grown up in Overland Park for most of his life. Outside the office, you will find Spencer spending time with his dog, hanging with friends or finding the best bar to watch sports in OP. If you want to make a fast friend in Spencer, greet him with "Let's go Royals!" "CHIEFS!" or, "Rock Chalk Jayhawk!"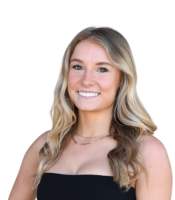 Brooklynn Arment

Social Media Coordinator
Brooklynn is the face behind all of Visit OP's social media platforms, which includes, but not limited to our Instagram, Facebook, Twitter, Tik Tok, and more. Born and raised in Overland Park, KS, Brooklynn's heart has always been deeply connected to this beautiful city. Her journey led her to the University of Missouri in Columbia, MO, where she earned a degree in Business Administration with a Marketing Emphasis and a Data Analytics Certificate. There, she was a Campus Tour Guide and served as the Vice President of Public Relations for the Panhellenic Association, which is the largest women's organization on Mizzou's campus. Brooklynn's passion for marketing took her to Dallas, Texas, where she contributed her talents as a Marketing & Social Media Intern at Callbox Storage in 2022. There, she learned the true value of crafting effective marketing strategies that elevate a company's presence. When Brooklynn isn't scrolling through social media or making graphics on Adobe Photoshop, you can find her at the local dog park with her Australian Shepard, beating her family on the pickleball courts, and improving her swing on the golf course.