Visit Overland Park Insider, Cynthia Malone, sits down with Strang Hall's Chef Alec Weaver. Chef Weaver shares his culinary craft with Strang Hall's Anousone and Solstice concepts. Interview edited for length.
As an articulate and nuanced food anthropologist, Chef Alec Weaver combines storytelling with cuisine in such a way that you fall in love with his creations. He is passionate about the miracle that is food today and what can be achieved with a simple, modest ingredient. It is possible to question our food choices when chefs like Alec encourage thoughtful consumption. With Strang Hall's multi-course dinners with wine-pairings, you can support local rising chefs in the making as well as enjoy a magical experience.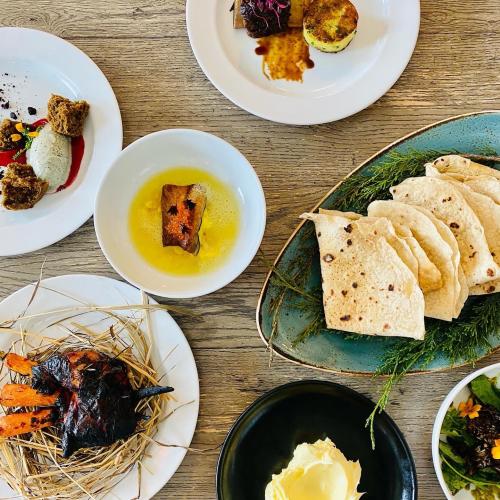 How do you create a story into a menu?
I need to have a thesis for a whole menu. It's how people think about dining. It might be harsh but it's my personal belief, at least here in the United States that 95% of people don't understand how food works. Not that they don't understand how to cook but that they don't understand how the application of heat or salt, or fat or acid works to create something. So what story do I want to tell? There must be some chronological order or some anthropological order to get us to the point of hunting and gathering and cooking over an open flame just to sustain ourselves to a duck leg confit and molecular gastronomy. Can I take the primitive idea of cooking to fine dining? The inspiration is to make people think about where the food comes from and how we got to this point.
What do you want people to walk away with after tasting your food?
I want people to walk away with an appreciation for the miracle that is the supermarket or Strang Hall or your mother's cooking. The fact that we live in a world that has advanced as a species where you can go wherever you want and get ground beef if that's all you want. You can come to Strang Hall and choose from Southeast Asian food or Mexican food or pizza and it's all right here under one roof but even a few decades ago that wasn't the case.
When we first started to cook as a species, we realized if we apply heat to raw food, we don't get sick as much and it breaks down the nutrients more efficiently so we can hunt longer, run faster. Eventually someone found out that this flaky white mineral tastes good when we put it on meat or those things we gathered. Then it was, we can use these herbs and cuisine was born. I want people to walk away feeling very small in the grand scheme of things and how blessed we are as a society and as a species and maybe a new-found appreciation for the people that make it and who have made it their life.
You transitioned from the journalism world to the culinary world. Not a lot of people are doing what they love or make that leap, what led you back to your passion?
I wanted to be a chef since the fifth grade. My uncle who recently passed away, was a professional chef from the time he was 16 to the day he died. My fathers owned a restaurant, Lonnie Q's BBQ, for 22 years. There isn't a bad cook in my family. Every aunt, uncle, cousin is food centric. My uncle has always been central to who I am as a person. I also grew up watching "No Reservations with Anthony Bourdain" on The Discovery Channel. I grew up reading cookbooks and experimenting with things, but I also loved to read and write, and I thought, "maybe I could marry those two." Maybe I can be a food-writer and tell the stories of the people who work in the kitchens. I think it was in the New York Times, an article called "24 Hours at Balthazar." A journalist spent 24 hours at this restaurant and documented the experience. Those are the stories I want to tell but as I studied journalism, I realized my passion was in the kitchen. I didn't want to be the one doing the interviewing, I wanted to be the one being interviewed. I got to a point where I ended up doing marketing and I looked in the mirror one day and I knew I had to make a change. I haven't looked back since. I say this to people in all seriousness -- "I wish I could do anything else. I wish I could be an attorney or someone in finance or something, but I can't."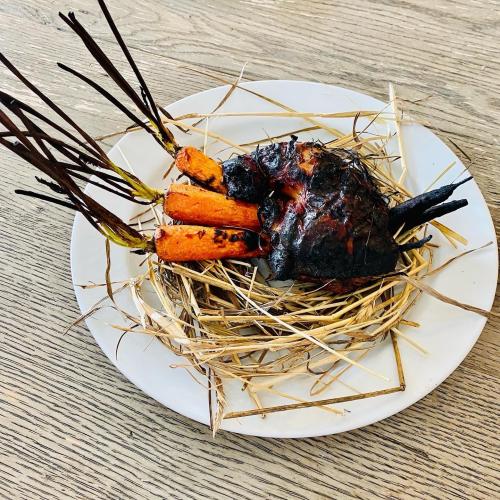 Nothing compares to this. It's a meditative state, a dance. It's an adrenaline ride. It's intoxicating. You're working in tandem with the person next to you and you're fighting the same battle right there and at the end of the day you feel good. You know you've done something that is one of the oldest vocations known to man. Food sharing is the oldest ritual known to humankind. 
Do you experiment in your own kitchen at home?
When I have time to. I'm pretty spartan with what I keep in my larder at home. I'm always reading cookbooks and one thing on my menu is a fermented vinaigrette. Fermentation and aging are passions of mine, so I do a lot of slower foods at home. If I go to an international grocery store and find something I think is intriguing, I'll buy it and sort of retroactively look up what goes with this and try to do something to build the taste memory. Every now and again it's nice to go to the old standards of spaghetti and red sauce.
In your opinion, what is the most underrated ingredient?
Salt and pepper. I'm a firm believer you can have premium ingredients, but plain salt and black pepper is it. Going back to the historicity of things, entire wars have been fought over salt and pepper. If you brought someone from 200 or 300 years ago into the modern age, they wouldn't be amazed by our iPhone. They would be amazed by our spice cabinet. You have turmeric and ginger and cumin here; you must be a wealthy person.
And your favorite exotic ingredient?
That's a good question -- harissa. If I'm doing a menu, chances are there will be harissa in it. I was at the Sierra Nevada Brewing Co. and they had lamb ribs with molasses and harissa. I had never had it before and I became obsessed with it. There's a Turkish grocer near me and it's $3 a can, I always have it on hand to mess around with it. I like it better than Sriracha and Sambal. It's my go-to.
If you could prepare a meal for anyone or any chef, who would you choose?
Honestly, I'd like to cook for my late uncle one last time. I could say Bourdain or Nilsson but my uncle was my greatest influence. He helped me during a dark time in my life. He helped me decide if I was going to leave a well-paying journalism desk job or take a huge pay cut and sell my house in Topeka and take this plunge. I didn't know if I could do it. During the last years of his life, he was a house chef for a fraternity at K-State. I called him up and I said, "can I come down and cook with you?"  So, I did. And it was the best time. His daughter is also a chef and a house cook, too. I didn't know if I could make the leap to a chef. He was one of the only people whose kneejerk reaction was, "Of course you can do it because it's who you are; it's in your bones. Do it now or you'll never do it." The hand tattoos that I have are in honor of him because he only had one set of tattoos and they were flames on his hands. He would say, "these are my hot rod hands, my hot hands, my money-makers." After he passed, I got these done. I would like to cook for him one last time, Chef Dan Dreher.
What's next in your career?
I sort of follow the philosophy of Magnus Nilsson. He says, "you go where the opportunity is." I have a goal of having my own spot one day. For the time being, my only goal is to learn as much as I can and when the door opens, I walk through it. I have always loved diners; the great unifier is the late-night diner -- where everyone under the sun comes in for eggs and toast. Can I take a diner food and elevate it? I want to run a place Tom Waits would be comfortable in. I love cooking fast and I want to comfort people with food. Feeding people is the best way I can show how I care.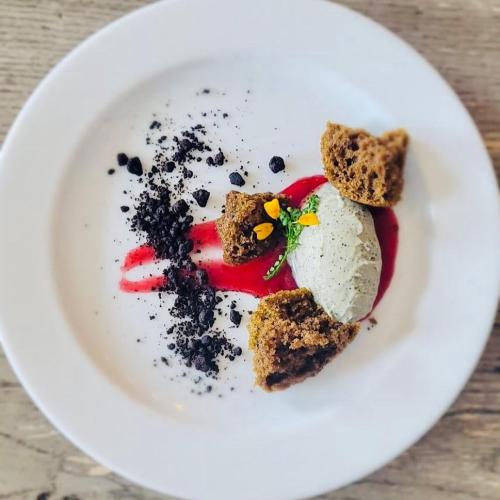 Experience the flavors in Overland Park and tag us on social @visitoverlandpark or with #VisitOP