Brunch is a mainstay for Easter, Mother's Day and every weekend vacation. It's your chance to put down the phones, connect with friends & family, and set the tone for an amazing day. Coffee helps, so does a Bloody Mary.
The Contenders
We did the hard work. We loaded up on burritos, pancakes, waffles, and yes, even the mimosas to find some of the best brunch in KC|OP. No thanks necessary, but please send elastic pants.
Another Broken Egg Café - Open every day 7am to 2pm, Another Broken Egg does one thing and does it right: breakfast. The menu is Creole inspired with dishes like Lobster & Brie Omelette Louisiana Crawfish Bowl and Chocolate-stuffed Belgian waffle. Brunch cocktails are available by the glass or by the pitcher. Because in the south, breakfast is a big-family-style meal that last hours. Who are we to disagree?


Louie's Wine Dive on 119th - The brunch menu at Louie's is anything but an afterthought – this wine bar has proved a good brunch starts with good food. We love their biscuits & gravy and the rise & shine flatbread. Grab an order of Beignets to share with the table – they are as delicious as they are Instagram-worthy. Brunch is served Saturday & Sunday 10am-2pm.


The Shack - With two locations in Overland Park, The Shack is all about breakfast and lunch. The menu is inspiring with Starchy & Cluck (fried chicken & waffles) and Gringo Killer™ (chorizo breakfast skillet). You want to skip right to the Adult Swim section where you can find spiked coffee, three different Bloody Mary's and boozie milkshakes.  The restaurant décor is fun, including customer doodles on plywood walls.  This popular restaurant doesn't take reservations, so arrive early to claim your seat!


Wooden Spoon - A traditional diner-style breakfast joint; you'll find homemade favorites at The Wooden Spoon in central Overland Park.  Locals and visitors love the corned beef hash and the egg panwich, an egg sandwich with pancakes instead of bread. Pro tip: ask for a side of the hash brown casserole. It's topped with ooey-gooey melted cheese.


McLain's Market - McLain's Market in Overland Park is the sister store to Kansas City mainstay, McLain's Bakery. You'll find delicious, locally-sourced brunch options that we could write about all day. (We're partial to the market bowl and their homemade chicken salad.) But what we need visitors to know, and this is SO important: don't leave without dessert. We're serious. McLain's roots are in baking for heaven's sakes. There are homemade pastries, donuts, muffins, "cup cookies" and other sweet bites.  One more tip? Grab a coffee to go. You'll be grateful as you hit all the nearby attractions in KC | OP.


Brass Onion - The word is out. Locally-owned Brass Onion's weekend brunch is one of the best in OP. Brunch starts at 10am but hold off on any pre-gaming because the options are plentiful. Brunch offerings include Mr. B's fried chicken, low country biscuits & gravy, and shrimp & grits. Plus, there's a full cocktail menu devoted to brunch including our favorite, The Sunny Side – orange vodka, pear, lemon and prosecco. 
And The Winner Is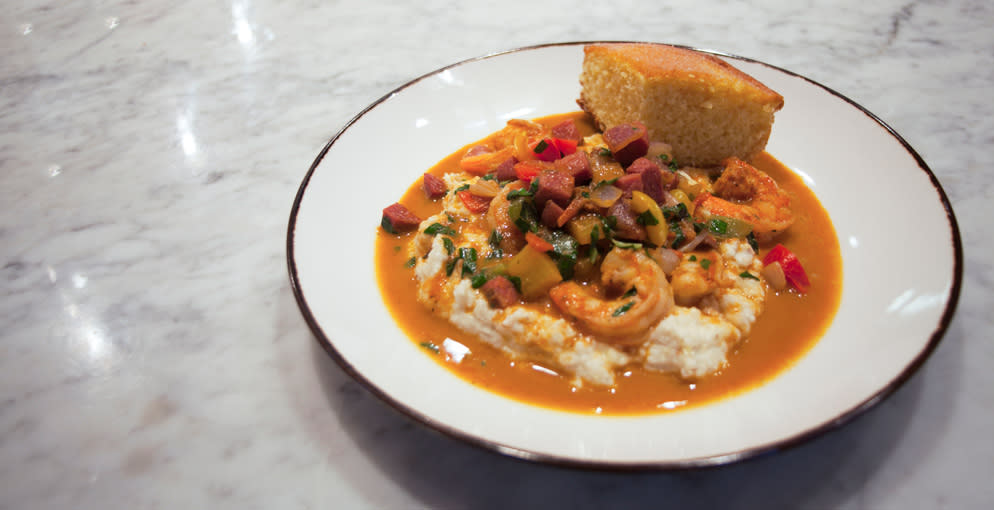 How can we possibly choose a favorite? Okay. Okay. And the winner is… The Brass Onion. Homemade fried chicken is hard to beat, especially when paired with a waffle and spicy Bloody Maria.
CONTINUE READING THE BEST OF OP BLOG SERIES