Discover the enchantment of the holiday season with Visit Overland Park's meticulously curated guide to the can't-miss events in the area. Whether you're a music enthusiast, a holiday shopping aficionado, or someone who revels in the glow of festive lights, there's something for everyone. Be sure to mark your calendars for these spectacular events taking place all over Overland Park. Stay in the loop by following us on Instagram and Facebook for updates, giveaways, and more surprises! 
November  |  December  |  All Month Long  |  Performances & Live Shows
Santa's elves have hidden candy canes all over the sports complex, and they need your help finding them! Join this unique hunt, followed by sweet treats and a visit from Santa and his reindeer. Don't forget to dress for the weather – this outdoor event goes on rain, snow, or shine. 
Experience the joy of holiday shopping and wine tasting in the heart of beautiful Downtown OP during the holiday Sip & Shop event. With local shopping, wine stops to be announced soon, and the opportunity to catch up with family or friends, it's the perfect way to spend a relaxing evening. 
Visit SCHEELS on December 2nd from 10 am until 2 pm to meet Santa! Parents can capture precious moments as children share their Christmas wish list and pose for a picture with Santa. 
Make the most of the holiday season by shopping for unique gifts and goodies at the Overland Park Farmer's Market. Featuring the 2023 season vendors, this market is weather-dependent but promises the same farm-fresh produce and local foods. 
Visit Santa at the Clock Tower Plaza on December 2nd from 10 am to noon and enjoy the Dickens Carolers. 
Make Christmas memories at The Ceramic Café with Breakfast with Santa. Purchase tickets, choose your time, and enjoy a delightful breakfast while creating and capturing memories with your children. 
Join the festive fun at Ensemble Boutique on December 8th, featuring pictures with Santa, The Sweet Shack Cookies Pop-Up, a Hot Cocoa Bar, Activities for Kids, and a 15% discount storewide. 
Unleash your creativity at the Holiday Paint & Sip at Brew Lab. Whether you come as a couple, with friends, or co-workers, this entertaining art instruction guarantees a blast. Enjoy a free drink ticket and everything needed to paint your masterpiece.
Santa is coming!! Come on out and enjoy some yummy brunch classics, get a photo opportunity with Santa and write him a letter.
Unleash your creativity at the Holiday Paint & Sip at Brew Lab. Whether you come as a couple, with friends, or co-workers, this entertaining art instruction guarantees a blast. Enjoy a free drink ticket and everything needed to paint your masterpiece. 
Begin your holiday season with the magical Nutcracker Nights at Strang Reserve. Ticket price includes one drink, light hors d'oeuvres, interactive stations, and a night to remember, all in support of the Downtown Overland Park Partnership and The Golden Scoop. 
Experience a festive hay ride in the beautiful Downtown Overland Park community. Enjoy a free ride on December 21st from 5-7 pm. 
Join Kris Kringle in skipping the cookies this year for holiday cocktails, festive appetizers, raffle prizes, local pop-up shops, and other surprises. This annual holiday party raises money for the children at Fox4 Love Fund. 
Although the Farmstead is closed, the holidays come alive with a synchronized light show at Deanna Rose. Tune in to 90.5 Rose FM, bring cocoa and cookies, and enjoy the spectacle from the warmth of your car in the Farmstead's parking lot.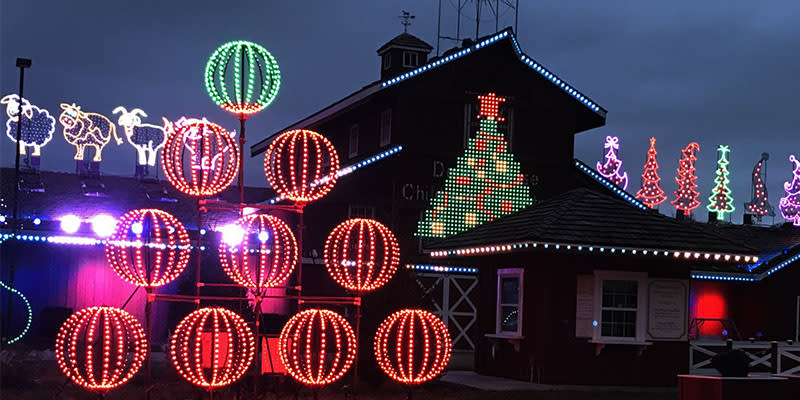 Kick off your holiday season with a festive family walk through the lights at the Overland Park Arboretum & Botanical Gardens! Take a stroll along the lit pathways to experience the magical Gnome and Fairy Villages, Marder Garden by candlelight, and the colorful Children's Garden and enjoy musical performances throughout. The gardens are bright with color -  while the walkways through quiet woods are lit with candles. Trees, buildings, and bridges are all part of the show, with thousands of lights aglow. Photos with Santa are available from 5:00 to 8:30 p.m., and the trains run in the Train Garden from 5:00 to 8:45 p.m. Complimentary hot cider is available in the Children's Discovery Garden. Check the event for dates!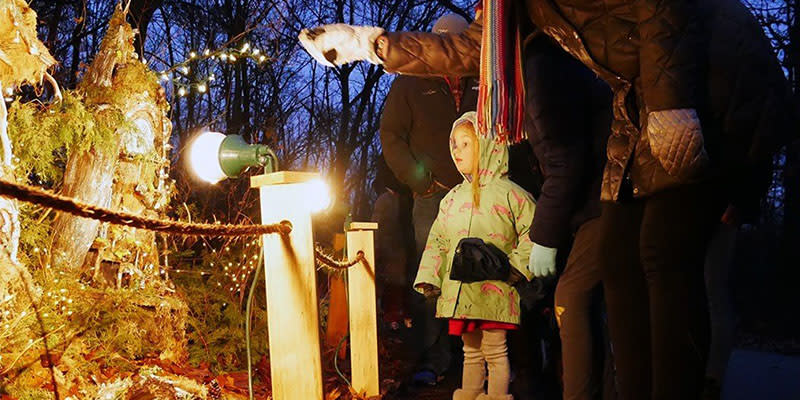 Luminary Walk: Adults Only at Overland Park Arboretum & Botanical Gardens: November - December 14, 2023 at 5 pm – 10 pm 
Escape to the serene Arboretum after dark for our Adults-Only Candlelight Stroll. A quieter Luminary Walk experience, featuring candles, light displays, live music, and gnome houses—no kids allowed. Ideal for a tranquil date night or "friends night out" with wine available for purchase. Adults-only; no entry for those under 18.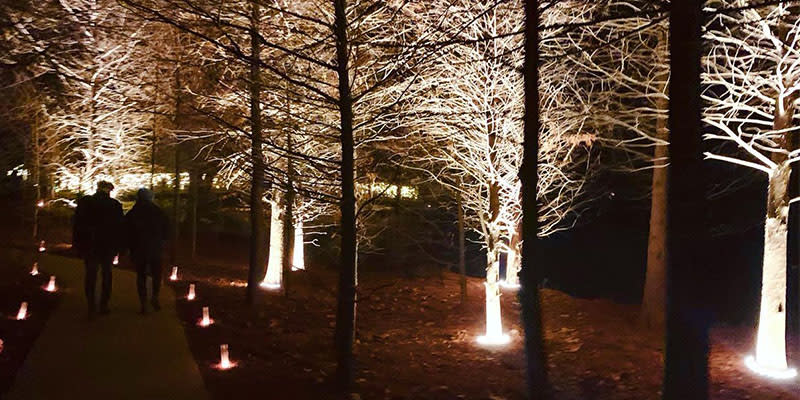 Experience a low-key Luminary Walk with only electric lights at the Arboretum. No Santa, no crowds—ideal for a leisurely stroll with limited capacity. Cafe Celeste open for hot beverages and snacks. 
Continue the tradition of meeting Santa at Oak Park Mall. Visits are free, and photo packages and keepsakes are available for purchase. Reserve a special time to see Santa and create lasting memories. 
Embrace the holiday spirit with your loved ones, including pets, during Pet Photos with Santa on Mondays. Capture heartwarming moments in a special Santa photo session 
Parks & Recreation Star: Jim O'Heir leads the charge in this edge-of-your-seat comedy murder mystery! When Daniel Corbin's new bride disappears at a chic mountain resort, he fears the worst. However, after a priest turns up with a beautiful stranger claiming to be the missing woman, Daniel discovers that the worst is yet to come! Tensions rise as an overworked local detective tries to sort fact from fiction, but with conspiracy running deep who can be trusted? 
Step into the enchanting world of The Nutcracker at our Annual Nutcracker Tea Party. Perfect for the child in all of us, this family-friendly event features a one-hour version of the holiday classic ballet performed by Crescendo Conservatory. Enjoy a delightful tea party and meet costumed dancers as they visit each table. The Nutcracker Boutique adds to the magic with a collection of unique nutcrackers, tiaras, and ornaments. Suited for children ages 3-10, this shortened ballet captures all the beautiful scenes, making it a fabulous experience for creating new memories. 
The Jewish Nutcracker at Jewish Community Center of Greater KC: December 3rd  
Embark on a magical journey with "The Jewish Nutcracker," returning for its third year. Follow Rebecca and the Nutcracker from Bubbe's house to the Land of Nosh, encountering mice, dancing dreidels, and more! Featuring Encore students, this tradition offers two options: enjoy a pre-event tea party followed by a streamlined performance on December 3, or choose from two performances on December 10 that include additional music. 
Inspired by the Tony Award-nominated musical, "Million Dollar Quartet Christmas" reunites legends Johnny Cash, Jerry Lee Lewis, Carl Perkins, and Elvis Presley for a nostalgic string of chart-topping favorites. Set in December 1956, this musical reflects on Christmases past and present, exploring whether rock 'n' roll is a fad or a revolution. 
Embrace a new holiday tradition with the fantastical and magical Seussical The Musical. Tony winners Lynn Ahrens and Stephen Flaherty bring Dr. Seuss characters to life, transporting you from the Jungle of Nool to the Circus McGurkus and the invisible world of the Whos. Join Horton the Elephant, The Cat in the Hat, and more for a colorful and whimsical family experience. 
Get ready for the most fabulous and competitive holiday extravaganza with "A Very Merry Christmas Pageant." Heartland Men's Chorus invites you to witness chorus members competing in a pageant filled with drama, laughter, and an abundance of holiday spirit. As the stakes rise, HMCKC reminds you that the holidays are about more than just winning—it's about coming together and celebrating the joy of the season. With stunning vocal performances, high-energy dance numbers, and plenty of holiday cheer, this show is a must-see event to get you in the festive spirit. The performance will run approximately 2 hours, with one 20-minute intermission. 
Holiday Boutique at Overland Park Convention Center: November 16 – 19, 2023 
Immerse yourself in the holiday spirit at the Holiday Boutique, where you'll discover unique shopping finds for everyone on your list. From dazzling holiday decor and apparel to toys and treats, the festival of trees and live entertainment will add an extra layer of magic. Take a break at the Boutique Café with a comforting hot chocolate while exploring custom-made gifts from artisan vendors. 
Kick off the holiday season in Downtown Overland Park at this FREE community event! Witness the Mayor lighting the tree in Thompson Park at 6 p.m. Enjoy live music, capture memories with Santa, and indulge in holiday shopping during this festive evening. 
FITWEAR brings you the 2nd Annual Prairiefire Pub Crawl – a delightful way to elevate your Black Friday! Join in for a family-friendly tradition filled with eating, drinking, shopping, and live music while supporting a local charity. 
Join the enchanting Miracle on 159th Street, Overland Park's official tree-lighting ceremony. Experience the magic with DJ Ty Brown, a special appearance by Santa Claus and live reindeer. Sip on hot cocoa and cider, capture memories in the photo booth, and embrace the holiday cheer in the green space between Jersey Mike's and Costa Vida. 
Meet Santa at Paint Glaza and Fire on November 25th! Enjoy Hot Chocolate and Cookies while creating cherished memories with your child. Watch the magic unfold as your child meets Santa and crafts a special Santa & Me plate. 
Embark on a festive journey with your loved ones at the Holiday Wreath Making Workshop. Join forces with Pink Peony to create unique holiday wreaths, and choose your style – be it vibrant holiday spirit or modern neutrals.