They say you should eat, drink, and be merry. Overland Park says it's even merrier if you can eat and drink in front of the cackling of a firepit. If you're not lucky enough to have a roaring bonfire in your backyard, Overland Park's restaurants are lighting up the fires and inviting you to cozy up with a cocktail in front of one of their mesmerizing firepits.
There are two Coach's Bar & Grill's in Overland Park. One off 135th will give you a firepit with a view. It has two outdoor fire pit areas on the rooftop deck. And the Coach's off Metcalf also has two outdoor fire pits with lounge seats if you prefer to stay on the ground.
Coach's serves comfort-food-meets-sports-bar with sports memorabilia lining the walls. Don't want to go outside? Coach's off 135th has a popular Fireplace Room that provides a warm, cozy atmosphere.
Recommended fireside cocktail: Orange Whiskey Smash. Jameson Orange Whiskey, Peach Schnapps, Sierra Mist, and lime juice.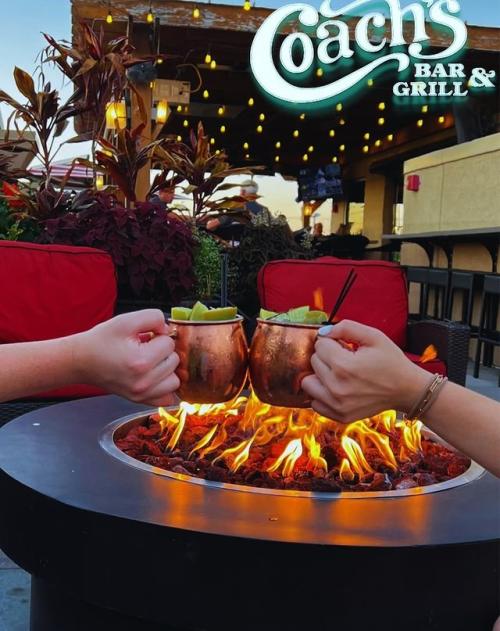 Head to the rooftop of Pinstripes to relax in an Adirondack chair in front of the roaring fire pit. If sitting and relaxing just isn't your thing, gather friends to warm the old-fashioned way by moving. Burn off some energy by playing at one of the ten bocce courts nearby. If bocce isn't your game, there are eight bowling lanes downstairs. The menu is extensive and always changing with the seasons.
Recommended fireside cocktail: Old Fashioned. Bulleit Rye Whiskey, Italian cherry, orange slices, maple syrup, bitters, and an orange garnish screams "fire pit cocktail."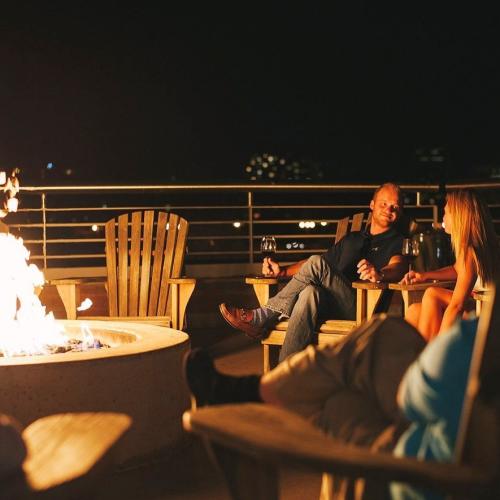 Nestled in south Overland Park, Red Door Woodfire Grill's patio is fantastic for hanging out with friends. And they're dog-friendly too! Red Door Woodfired Grill does it right with fire pits and heaters. With arguably one of the best burgers in town, Red Door Grill also offers an expansive cocktail menu. Sundays are popular for their half price wine.
Recommended fireside cocktail: The OG. Tito's Vodka, premium ginger beer, and lime juice make up the simple yet classic cocktail. Red Door is known for their mule cocktails so you can't go wrong here.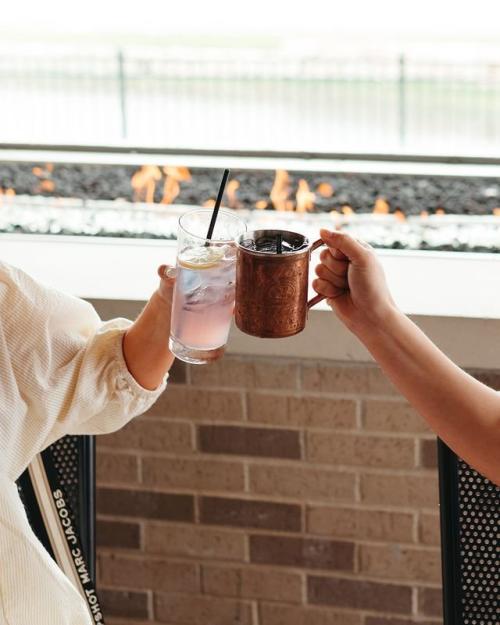 TopGolf isn't just about golf. It's a three-tiered golfing range but it's also well regarded for its menu and cocktails. The rooftop terrace has fire pits and is the perfect seating area for live musical performances or just chatting with friends. Play a round or two on TopGolf's heated bays then relax by the fire. TopGolf is a full-service restaurant, and home to three full bars.
Recommended fireside cocktail: Bloody Mary. New Amsterdam Vodka, Demitri's Bloody Mary, Filthy Pickle Stuffed Olive, lime, lemon, and salted rim is not just for brunch. It's also a good sippin' drink by a fire.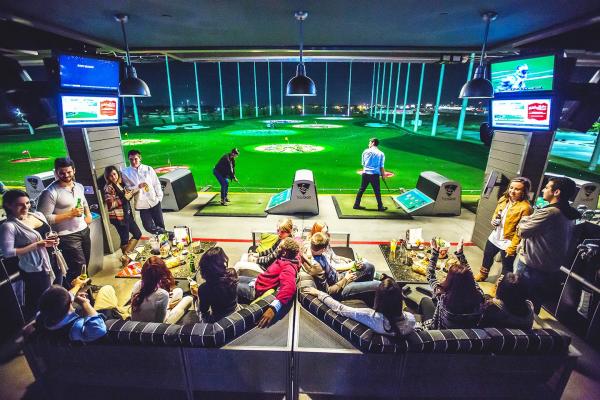 You need some color in your life and Coco Bolo's can help you with that. Inside you'll find a giant, roaring fireplace to warm up on those cool nights. The fireplace is inside but Coco Bolo's is good about keeping their heated outdoor bar patio doors open so it always feels like it's outdoors inside. There are flavorful dishes, and killer handcrafted cocktails. Still prefer to be outside? Head across the street to Prairiefire's outdoor fire pits, open for anyone shopping or dining in the area.
Recommended fireside cocktail: Coco 'Rita by the Glass. Bolos famous fresh-squeezed house marg. They also come by the pitcher!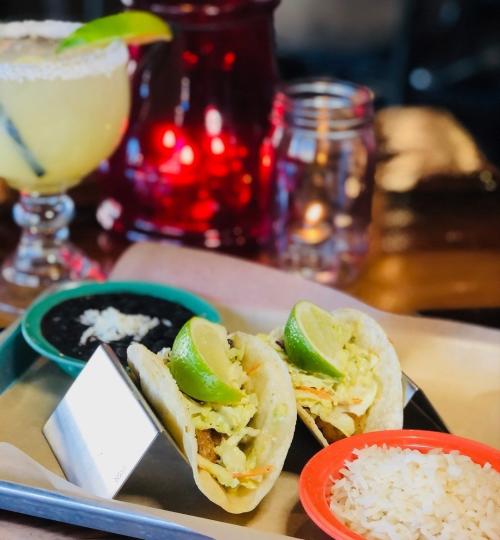 Heated Patios
If you don't need a firepit but are good with just a heated patio, then here is the list of heated patios in Overland Park. Make sure to contact the business with any questions, as some of these heated patios in OP are weather dependent.
Club 27 at Sykes/Lady Overland Park Golf Club
Need more things to do in OP? Sign up for Let's Go OP, our monthly insiders email. We uncover the best experiences and flavors in Overland Park and deliver them directly to your inbox.