If there's anything we know about the Midwest, it's that there aren't just four seasons. There's winter, followed by fool's spring, then second winter, a quick spring of deception, and then third winter and the last two weeks' mud season, and finally we can celebrate full spring.  
So, happy spring, friends! It's time to get outside. 
And we have recommendations. We asked around and played on plenty of playground equipment, and we came up with a list of some of our favorite parks in Overland Park. Did you know there are more than 75 parks in Overland Park? When the word "Park" is in the city's name, you'd figure we'd have plenty. While we're highlighting just a few in this article, you can find all of Overland Park's parks, their locations and descriptions here.  
88th & Farley
Closed for more than two years, Strang Park is set to reopen summer of 2022 and be more inviting, inclusive and accessible than ever. When it reopens in June, Strang Park will welcome back families with elevated climbing nets, a sensory tunnel, a rock wall, a teeter-totter and in-ground trampolines, all intended to promote tactile, motor and visual skills. Renovations also include additional parking and new signs honoring Dr. Martin Luther King, Jr. throughout the park, and visitors can also enjoy exercising on the wide walking trail and basketball courts.
103rd & Roe
With several sports fields, tennis courts, a playground and encircled by a multipurpose trail that connects to the Indian Creek Trail and Johnson County's extensive trail network, the recently renovated 40-acre Roe Park is a perfect place to start exploring Overland Park. Kathryn from Lee's Summit frequents Roe Park because, "It's a great area and has a lot to offer - trail, splash pad, playground, and more!" And if you do choose to explore the Indian Creek Trail and head west, you'll find Nall Park, a 13-acre neighborhood park, just a short walk away, with many more miles of idyllic tree-lined trails awaiting on the other side.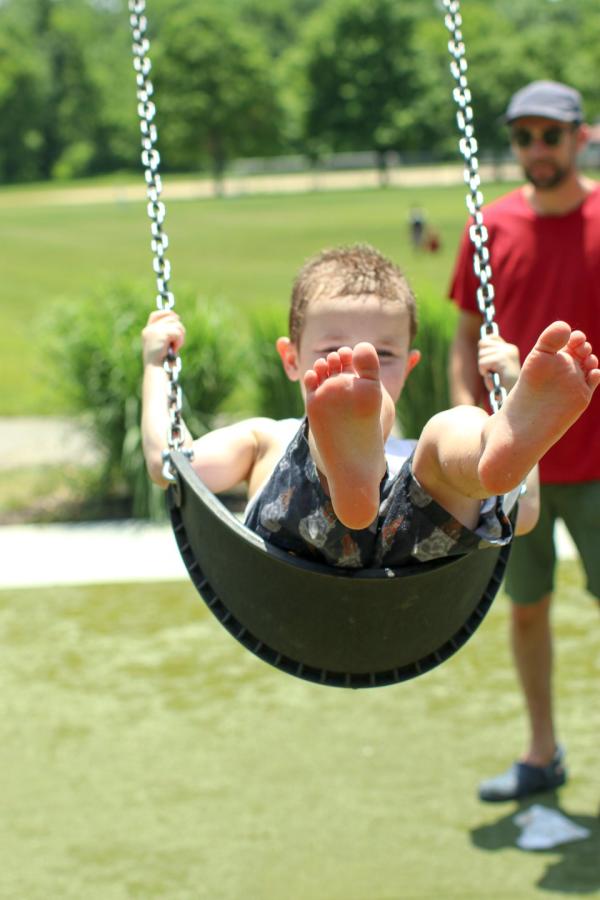 119th & Quivira
After being cooped up all winter, dog owners will appreciate the opportunity to let their four-legged furry friends roam free in the seven-acre off-leash area in Thomas S. Stoll Memorial Park. This 80-acre park also features a scenic walking trail, colorful playground, picnic areas and shelter, and seven athletic playing fields. There's also a small pond stocked with a variety of fish including largemouth bass, bluegill, and channel catfish.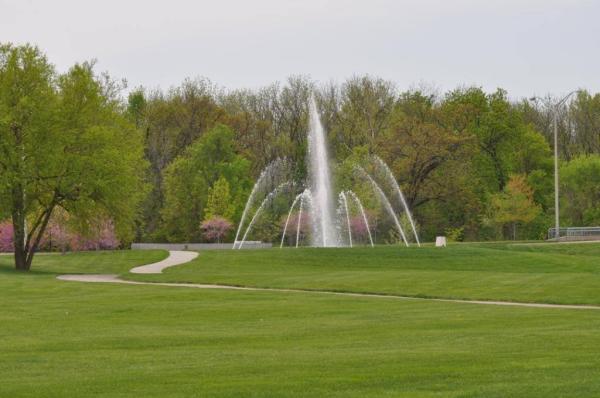 College & Lowell
Alison from Liberty wanted to make sure Summercrest Park made this list. "Tucked in a neighborhood but with all new equipment recently," she said, "there's a walking trail that goes over a creek with lots of ducks." Nestled between the bustle of Interstate 435 and the retail of 119th Street, this 13-acre neighborhood park may be a hidden gem for most, but Alison noted, "It's right down the street from my parents' house so they take my kids there often!"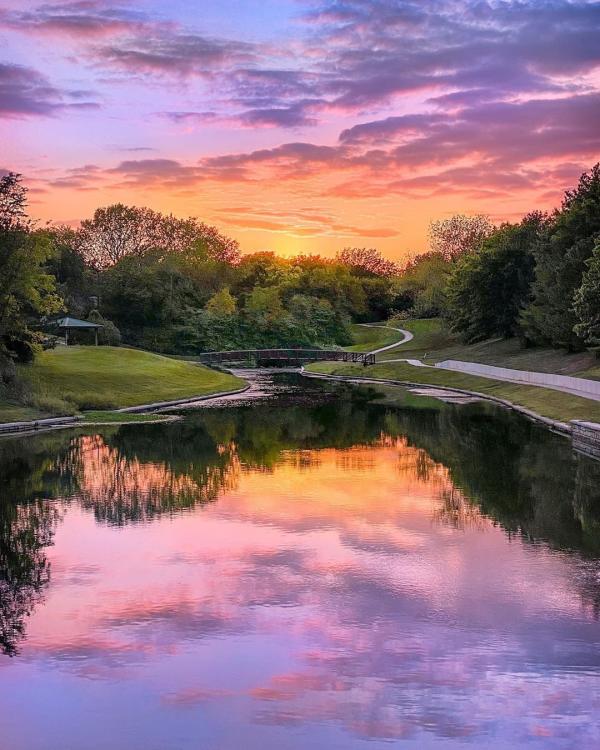 81st & Santa Fe
For proof that size doesn't matter, spend some time enjoying Thompson Park. While less than 5 acres in size, Thompson Park provides residents a place to gather, play and relax in the heart of downtown Overland Park. "We love the splash fountain, the fact that we are close to our favorite shops and restaurants, and it's the perfect size for our kids," says Abby, an Overland Park resident. "In Christmas time, we go there at night to play while surrounded by Christmas lights and the mayor's tree."
74th & Hardy
Spanning nearly 11 acres, Antioch Acres Park is an ideal getaway for anyone looking for fun ways to exercise. Kids can enjoy the playground and swings, adults can walk the loop trail, and pickleball and tennis courts provide an outlet for anyone's competitive energy. And with a reservable shelter and picnic tables available for use, you can relax and refuel after your activities.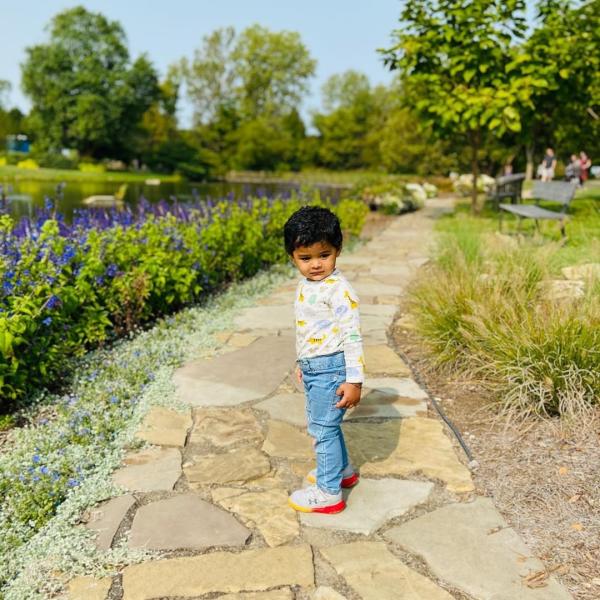 So that should get you started. When you add in the dozens of other parks and playgrounds throughout Overland Park, then include must-see destinations such as the 300-acre Overland Park Arboretum & Botanical Gardens and the family-favorite Deanna Rose Children's Farmstead on your well-deserved spring and summer of new outdoor adventures!