You don't have to travel far to taste some of the best international cuisine. We've rounded up our top seven international restaurants in Overland Park, making it easy to hit them all in just one week.
Sunday
Start the week off with our friends at Hot Basil. Thai restaurants are abundant in Greater Kansas City, but Hot Basil stands out when it comes to authenticity. Choosing between their signature Basil Fried Rice, highly-rated Tiger Cry Beef or the go-to Pad Thai is never easy. We suggest you bring a couple friends and try it all. Save room for Mango Sticky Rice for dessert.
Monday
Overland Park locals love El Salvadoreño off 87th street. Try their fan favorites like guacamole and papusas. A papusa is a thick tortilla stuffed with filling – meat, veggies, you name it. The patio is perfect for good weather days.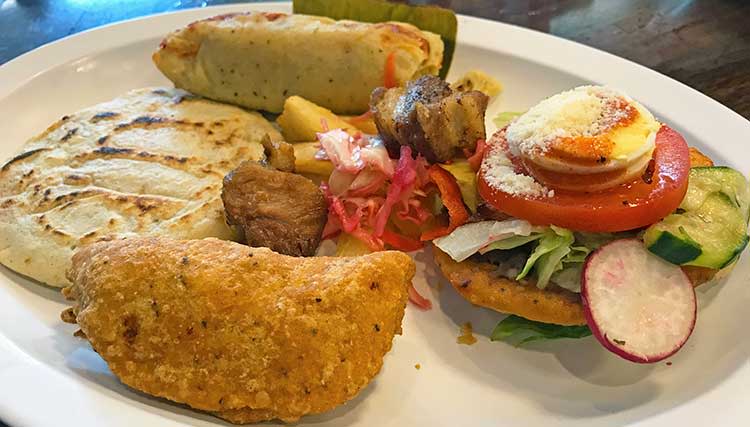 Tuesday
Two words: Taco Tuesday. But this isn't your Tex-Mex, wannabe taco. El Fogon serves authentic Mexican street tacos. On Tuesdays, they go on sale in celebration of, well, Tuesday! Order a variety and hit the toppings bar filled with fresh salsas and sauces.
Wednesday
Basha Cuisine blends the perfect combination of Middle Eastern and Mediterranean fare. The weekday lunch specials are perfectly portioned to maximize flavor and value. Try a kabob plate or falafel sandwich. Add stuffed grape leaves and end with baklava. You can't miss.
Thursday
For vegetarians or fans of delicious food that happens to be prepared without meat, look no further than Elsa's Ethiopian in Downtown Overland Park. Check out the combo plate, that you eat with your hands or any of the Wot dishes. Need the meat? Don't worry! Plenty of options for carnivores, too. And everything on the menu pairs well with the honey wine.
Friday
ABC Cafe is a hidden gem in town that the locals love. Experience authentic Chinese flavors in their signature dishes and dim sum. Insider's tip: seating is limited so try to arrive during slower times of the day.
Saturday
Taste of Africa rounds out our week. Come hungry, and order a large platter. The Kalahairi Platter includes goat, rice, kale, cabbage and more. Beef Samosas are very popular here. Leave room for The Sweet Banana Dessert, it's a fried plantain topped with cinnamon, sugar, vanilla ice cream, chocolate and strawberry sauce.
Continue Reading The Best of OP Stories Series
Who says grabbing a few beers is reserved for the weekend? Not Jimmy Buffet, that's for sure…
We've rounded up the best barbecue joints in town! So, work up your appetite and get ready to…