There are the three famous topics that we are all told not to discuss in public: Money, Religion, and Politics. But we believe barbecue (BBQ, Bar-B-Que, spell it how you want) should be added to this list. Why? Because a favorite barbecue spot is just as divisive as the three others here. Relationships have ENDED over debates about the best barbecue in Overland Park. 
Here are the top barbecue joints in Overland Park without drooling too much on my keyboard. However, I make no promises.
If you eat your way through this list of barbecue restaurants on your next trip to Overland Park, I promise you will leave a very happy person.
This relative newcomer to the barbecue scene has made a big splash. What once started as a competitive barbecue team transformed into a rustic, yet urban restaurant, which is now one of the hottest restaurants in Overland Park. We suggest ordering the Judge's Plate to taste a wide variety of their smoked meats.
Since 1957, Jack Stack has been a tried-and-true Overland Park staple. If you want an upscale dining barbecue experience, look no further than Jack Stack. From start to finish, you can't go wrong here -- unless you don't order the cheesy corn. Please, order the cheesy corn.
Everyone deserves great barbecue. A few things that you should expect when you come here: seeing everyone ordering ham salad as a side (for good reason), great barbecue with a small town feel, and dry rubbed meat served without sauce (you can add that yourself if that's your thing.)
Joe's KC
Maybe one of the most well-known barbecue restaurants near Overland Park, you have probably seen them on numerous national lists for best places to eat. We can't disagree here. While Joe's does lots of things well, the Z-Man may be their most popular item. This sandwich features smoked brisket, provolone cheese, topped with onion rings and sauce. If you aren't a brisket fan, swap it out for chicken or Portobello mushroom.
If you are feeling extra feisty, try out the Burnt End Bowl. This mouthwatering dish features their burnt ends, beans, cornbread, all of which are topped with onion straws. Make sure you bring your appetite.
Thai, meet Kansas City barbecue. Buck Tui BBQ brings together the complementary flavors of Northeastern Thai cuisine and Kansas City Barbecue. Try the flavors of palm sugar, Thai smoking methods, and authentic sauces mixed with the familiar smokey-salty-sweet barbecue that Kansas Citians love.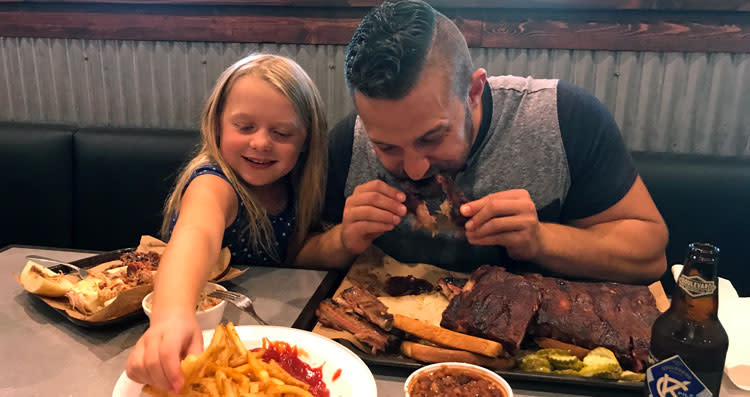 Choosing the best barbecue restaurant in Overland Park isn't an easy task. It's like asking a parent to choose their favorite child, which can all depend on the day and what mood they are in.
Continue Reading The Best of OP Blog Series
Who says grabbing a few beers is reserved for the weekend? Not Jimmy Buffet, that's for sure…
We've rounded up the best barbecue joints in town! So, work up your appetite and get ready to…