As Kansans, we've been raised to believe there's no place like home. And we've all spent a lot more time at home these past couple years. But now that we're emerging from a global pandemic, we find that many of our employers are embracing a hybrid work schedule. What if "Work From Home" actually means "Work From Anywhere You Can Be Productive" and we can rethink where we work?
Our Visit OP team has done our research – taste-testing coffee, looking for plentiful wall outlets, doublechecking WiFi passwords, nibbling on pastries – and we've come up with a list of places where you can comfortably Work From Home Away From Home.
YOU'LL NEVER LOOK AT OFFICE COFFEE THE SAME
127th & Metcalf
Ever since the phrase "coffee break" was coined, caffeine and productivity have gone hand in hand. Fans of Pilgrim are quick to praise the work-friendly qualities of this coffee shop. "I am still working remotely, and I have never been disappointed once by coming here," said Rafael in his five-star review. "Lots of seating, a great place to meet with someone or several people." Casey's five-star review says it "was never overcrowded and had space to work on creative projects." And in another five-star review, Kasi notes there are "lots of places to sit that are out of the flow of customers… a great place to plug in your laptop and get some work done."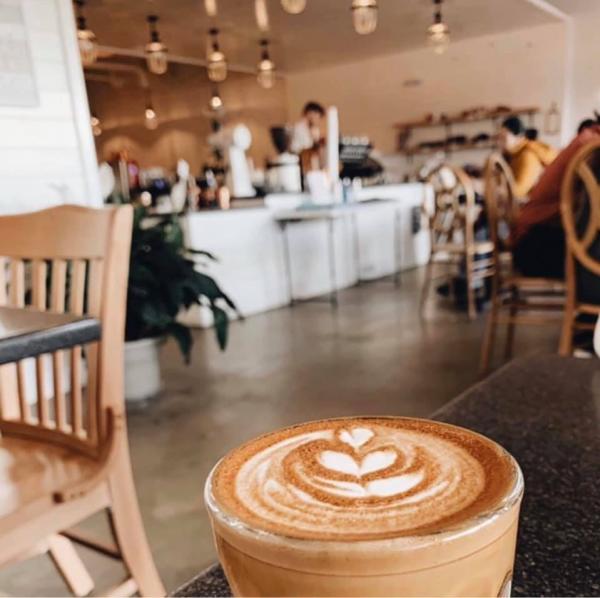 103rd & Highway 69
The first time you visit Brew Haha, you'll realize you shouldn't judge a book by its cover. The unassuming exterior quickly gives way to the cute, quaint décor that welcomes you in and encourages you to sample a wide-ranging menu. And with only a handful of seating options in sight, you may start to worry if you're going to have to order your coffee and crepe to go (and yes, be sure to order a crepe). But then you realize that just beyond the bar is a door to a spacious room with a variety of comfortable seating options. "Brew Haha has a warm and inviting atmosphere," says Matt, an Overland Park-based author.  "The people are extremely friendly, the coffee and food are great, and the setup is perfect to meet with someone or write a book in solitude."
91st and Metcalf
Not all coffee drinks are created equal. And at Summer Moon, that's by design. Newcomers may be thrown when they see the Moon Milk measurement matrix on the wall with various fractions of "moonness" illustrated. Just think of it as your formula for balancing the amount of espresso vs the sweetness from their signature sweet cream. If it's your first time, the Half Moon is the shop's most popular drink, allowing customers to recalibrate from that starting point. With so many iterations available, it's the perfect place to be a repeat visitor so that you can experiment with your ratios and flavors between zoom meetings.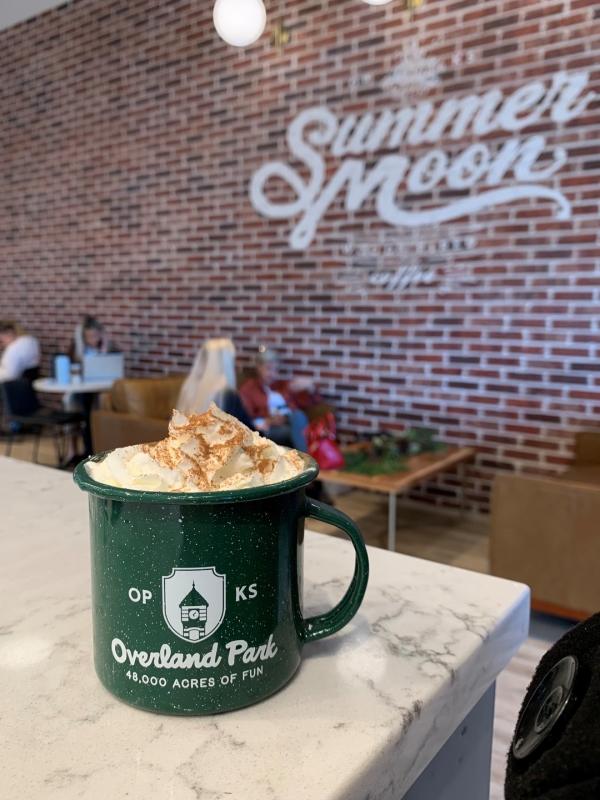 151st and Antioch
If you're looking for a remote workspace down south, Jinkie's will welcome you with a variety of drink options, an array of pastries and cookies and a friendly staff that will appreciate you cracking open your laptop and getting comfortable. If you enjoy a splash of retro vibe with your morning beverage, Jinkie's will lift your spirits while boosting your energy levels.
IT'S NOT A LUNCH BREAK IF YOU'RE ALREADY THERE
435 and Roe
Yes, McClain's and their sister shop, Sway Coffee Roasters, have delicious coffee options to get your day started. But have you tried their lunch menu? If you're looking for serious sustenance to get you through your to-do list, they offer favorites such as the Market Wrap (sweet potato with quinoa, falafel, tomato, red onion, hummus and feta), Apple Walnut Salad (marinated kale, fuji apples, walnut granola, quinoa, red onion and cranberries) or Harvest Quinoa Bowl (warm quinoa, chicken, bacon, marinated kale, roasted sweet potatoes, roasted mushrooms, roasted asparagus and more). Rebecca from Olathe chooses to work at McLain's "because cappuccinos, bakery treats, harvest grain bowls, atmosphere and staff!" It's a perfect recipe for a productive day.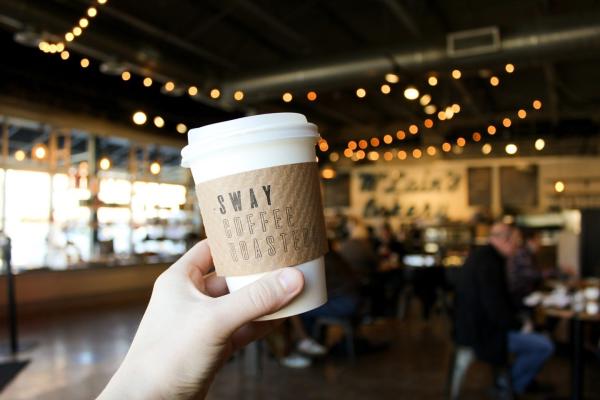 80th & Marty in Downtown OP
This could be a really long description, or a really short description. A collective of six chef-driven restaurants under one roof, Strang Hall literally has something on their menus for everyone. Or as many have summed it up, "Cool spot, great food, lots of outside and inside space." To put it in Work From Home terms, think of it as the best office cafeteria you've ever seen. You'll see Southeast Asian next to a new take on tacos. New Americana across the hall from craft pizza and sandwiches. Outside you'll find picnic tables, lounge seating and tons of open green space. And in the middle of it all, a full-service bar with cocktails, wine and beer. Which brings us to our next category….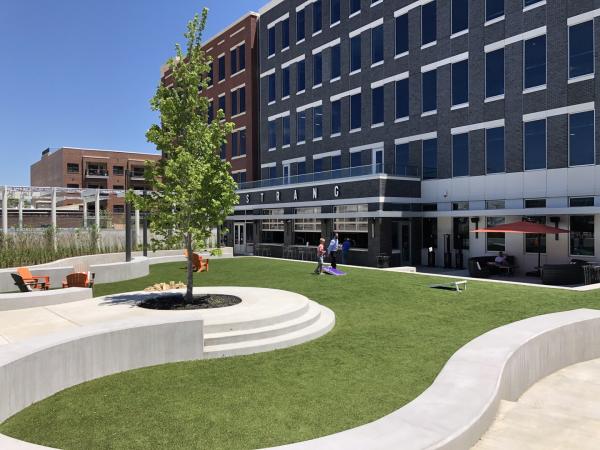 WHEN WORK DOESN'T NEED TO FEEL LIKE WORK
79th & Marty in Downtown OP
We're not saying you should work from a bar every day. But when the time is right (late afternoon, way too many emails, spreadsheets upon spreadsheets), Brew Lab is there for you, pouring a wide selection of handcrafted beers, many of which can only be found in this spacious taproom. In 2013, four friends dreamt up "a place for home brewers of all backgrounds and experience levels to improve their craft, create better beer, and have more fun doing it." So look at it this way: While you're honing your craft on your laptop, you're helping these aspiring brewers hone their crafts … and their craft beers.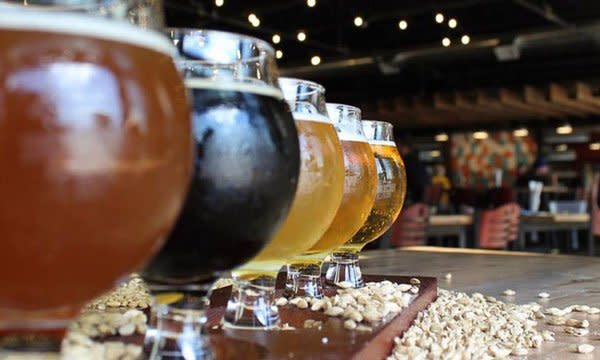 Indian Creek Parkway & Mission Rd
You'd rather do just about anything than finish up those expense reports. But what if you were doing them with a freshly brewed local beer while enjoying one of the best slices of pizza in town? Suddenly expense reports don't seem so bad, do they? Since opening the original Martin City Brewing Company in the southeast corner of the KC metro in 2014, MCBC has been on a roll, opening new concepts and locations. But two things have remained constant: The quality of the beer and food, and the staff's warm hospitality. You'll come in thinking that you're just going to knock out that expense report, then you'll find yourself finishing that Espana Pizza (chorizo, red onions, tomatoes, spicy hot cherry peppers and Manchego cheese) wondering how it's already last call.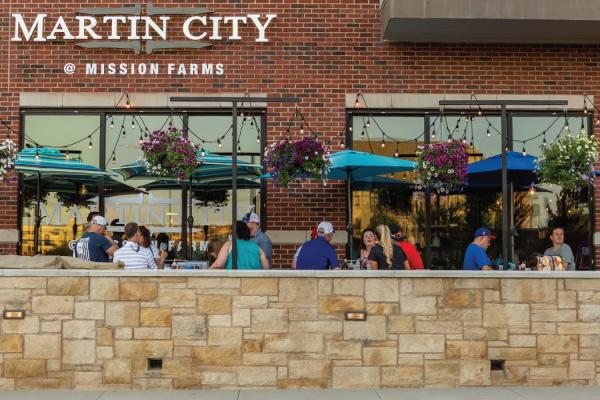 OFFICE PLANTS, BUT YOU DON'T HAVE TO WATER THEM
85th & Farley
Before you head here, take a quick look at the calendar. Cafe Equinox is only open seasonally during the winter months and it's so worth it. Warm up surrounded by greenery when you're working. Leave it to the experts at Family Tree Nursery to care for the annuals, perennials, tropicals, trees and shrubs to send you back to the middle of the perfect summer. You just need to order your favorite drinks and baked goods and focus on polishing off the final slides of that presentation. You get all the calming benefits of being surrounded by beautiful plants without the stress of being a green thumb.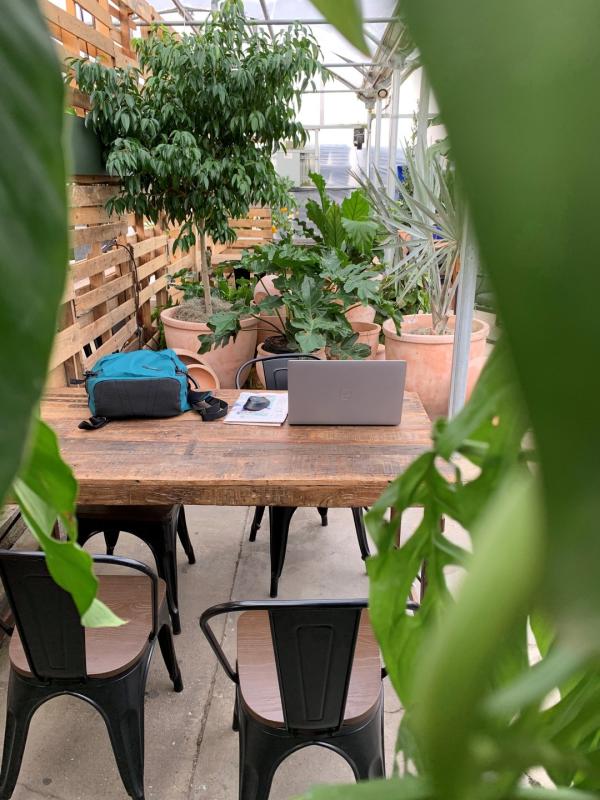 179th & Antioch
When you really need a break from the office cubicle environment, the 300-acre Overland Park Arboretum & Botanical Gardens offers an immersive escape with 1,700 species of plants, expansive gardens, hiking trails, and open prairie – with fascinating educational opportunities everywhere you look. Whether you're on or off the clock, it's truly a crown jewel of Overland Park. But if you're planning on being on your laptop, you'll need to bring your own hotspot. Just another reason to unplug and enjoy the surroundings.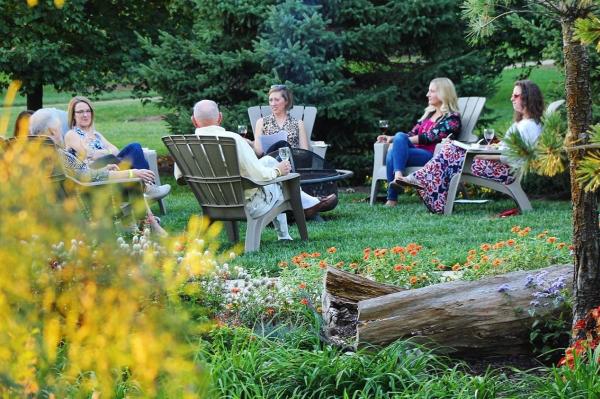 These are just a few of our ideas for the best remote working options. Where are you most productive? Reach out to us on social and tag your favorite spots for working from anywhere.
Looking for a monthly dose of fun? Sign up for Let's Go OP.  We deliver the best experiences and flavors in Overland Park directly to your inbox.