If you're visiting Overland Park, you don't want to miss out on experiencing our brunch offerings! In fact, Overland Park has some of the best brunch spots in the region. And naturally, when there's brunch, there are bloody marys and mimosas.  
Whether your boozy brunch style includes the tomato-forward, salty and spicy vodka-fueled drink or the fresh fruit juice slow sipper mimosa, Overland Park has all forms of each. However you guzzle down your brunch companion, this list will tease and please. 
*Please note that many of these options include day and time limits so inquire within the restaurant. 
It's all in the name at Louie's Wine Dive. So for all of you mimosa-lovers, you'll get the bubbliest bang for your buck here. Louie's Wine Dive offers mimosas in three standard flavors: orange, cranberry and grapefruit. Need more than just one? Order the almost-never-ending mimosas! The mimosas are served in a small carafe and every glass after the carafe is only $1. 
If mimosas aren't your thing, Louie's Wine Dive also offers regular or bacon bloody marys.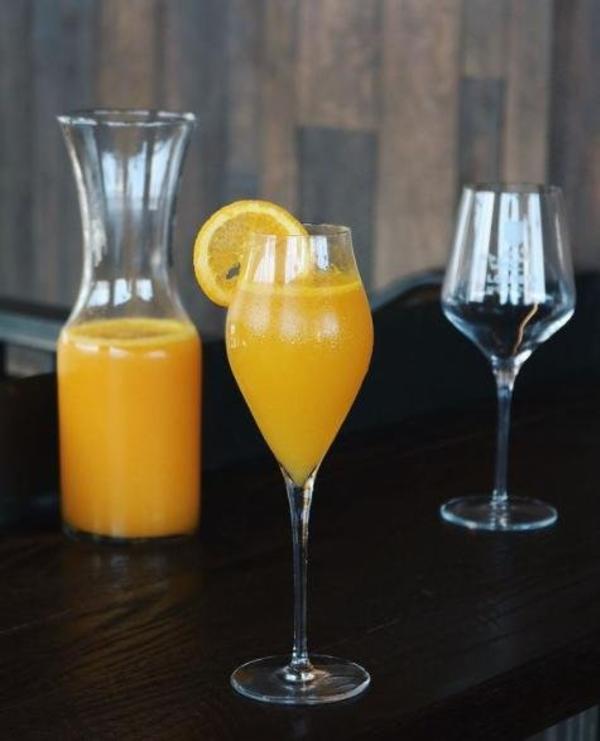 Sure, Coach's can easily make you a mimosa with their fully stocked bar but – trust us -- go for the bloody marys at Coach's. The Milwaukee bloody mary is what bloody legends are made of. This special bloody mary is garnished with a 1 oz. hamburger slider made-to-order, cheeses, bacon, celery, asparagus spear, onions, beef jerky, shrimp, red & green peppers and a pickle spear. It's a snack and a drink all in one!  
*Please note that the Milwaukee bloody mary is only available at the 135th location and only on Saturdays and Sundays during brunch hours.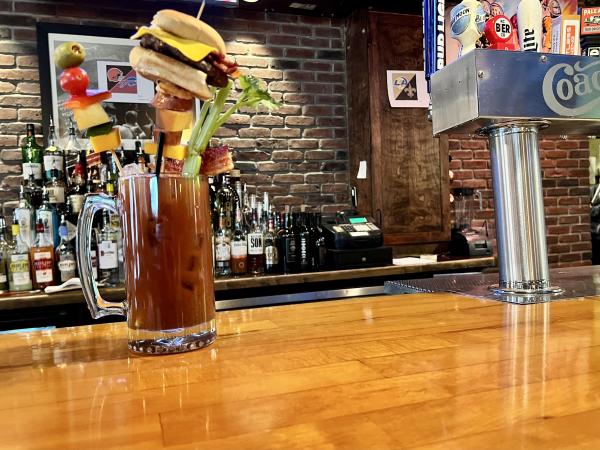 Looking for a brunch with a southern flair? Another Broken Egg is your spot. And true to the southern culture, they also have an extensive bloody mary and mimosa cocktail list. Get your bloody marys and mimosas by the glass or the pitcher. Bloody marys come with your choice of liquor: whiskey, vodka, tequila or gin. We recommend the Abe Famous Infused Mary – a spicy, pepper-infused vodka with a house-recipe Bloody Mary mix.  
Mimosa fans will love this cocktail menu too. Another Broken Egg Café has the biggest mimosa menu in Overland Park. Take your pick from the Grand Mimosa which includes a classic orange juice topped off with Grand Marnier and Wycliff California Champagne. Get crazy with flavors like lemon-blueberry, strawberry, orange, cranberry, or apple pie.  
You'll find mimosas by the glass at the Shack. And they're heavy pours too. It says so right on the menu – champagne with "just a splash" of OJ. 
If you favor the bloody mary, the Shack offers a range of options for all taste buds. The Veggie Mary is cucumber vodka, bloody mary mix, olives, asparagus, limes and carrots. The Spicy About Mary is habanero vodka, spicy Bloody Mary mix, garnish with a bomb pepper, pepper jack cheese cube, Cajun beef stick, olives and limes. Or try the Meaty Mary made with cucumber vodka, bloody mary mix, bacon, cheese cube, limes, olives and then suck it all down with a beef jerky straw.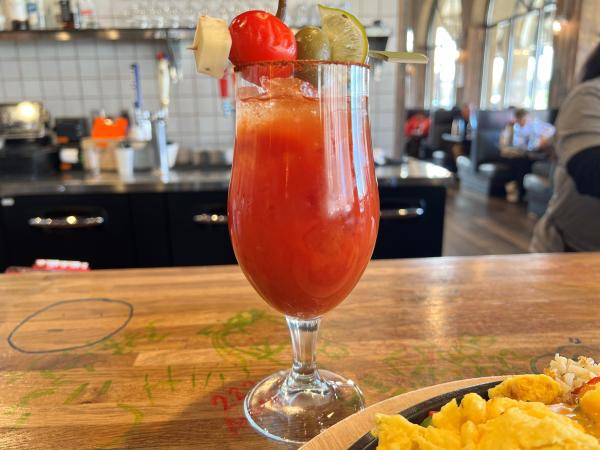 If you crave variety in your boozy brunch selection, Snooze is your brunch spot. You'll find a great mix of mimosa flavors like orange, strawberry, blood-orange, pomegranate. Or get fancy with an Abricalavra which includes champagne, Apricot Liqueur, fresh lavender, honey and lemon juice. The Palomimosa is champagne, tequila, Elderflower Liqueur and grapefruit juice. Or the Rummimosa is champagne, spiced rum, orange liqueur, mint simple syrup, orange and lime juices that is served over ice.  
As far as bloody marys go, you have plenty of options. The Snooze House Bloody has wasabi, ginger, Worcestershire sauce, Tamari soy sauce, and habanero and jalapeno Infused Vodka. Horse and Sidecar Bloody: House Bloody Mix with Tito's Handmade Vodka, Dill Pickle, Lemon & Olive Juices, and Horseradish. Served with a Sidecar can of Beer.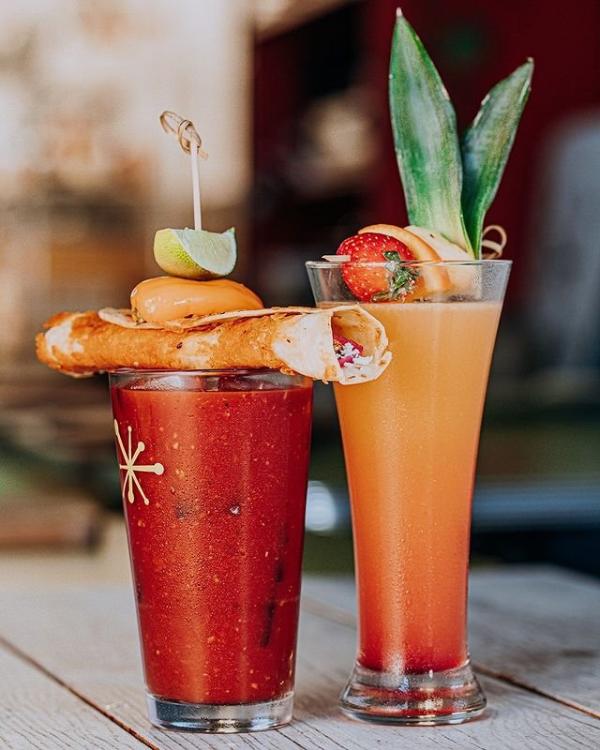 Prairiefire's Veritas Whiskey and Wine is known for their high-end mixology and an extensive wine list. But this place isn't only for happy hours. Stop in for Saturday or Sunday brunch where they offer a specialty brunch cocktail menu. The boozy brunch cocktails include several choices of bloody marys – regular, bacon or pickle. Or if you're feeling adventurous, try their Midwest Bloody that comes with a side of beer. Their mimosas include different flavors such as a ruby red prosecco and a Kentucky Sunrise with grenadine, orange juice and Maker's Mark.  
*At this time, the brunch-only cocktail menu is only available on Saturdays and Sundays.  
You'll find that the classic mimosa makes a sweet compliment to the southern brunch cuisine at The Brass Onion. Order the mimosas by the glass or a carafe. But if you want to really get a spicy taste of southern cuisine, opt for the Spicy Onion Bloody Mary. This bloody mary is one of the spiciest in Overland Park so be prepared to kick off your brunch with the fiery taste of jalapenos and cayenne pepper mixed into the handcrafted cocktail.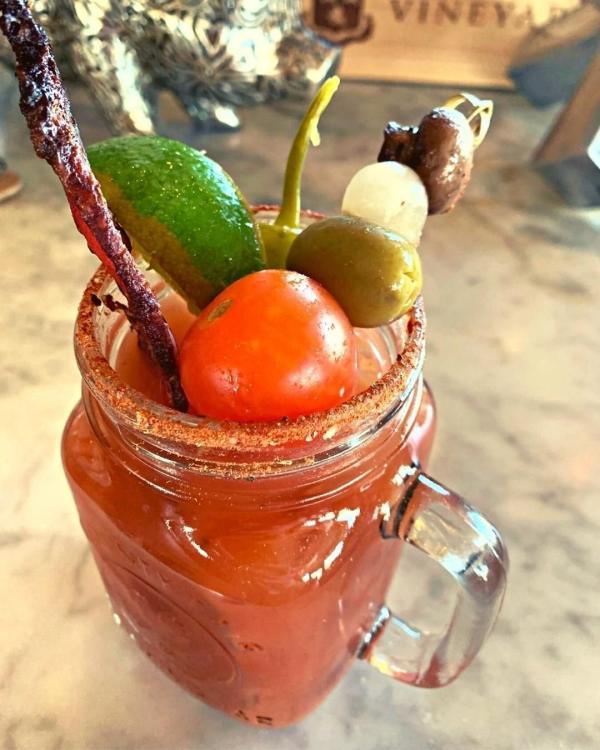 Need a monthly dose of fun? Sign up for Let's Go OP.  We deliver the best experiences and flavors in Overland Park directly to your inbox.