They say March comes in like a lion and out like a lamb. But this is the Midwest -- March in Overland Park can come in like a lion, and go out like a lion. Or it might even come in like a lamb, and go out like a lamb. You could experience sunny and 65°F or snow and 29°F.  
What's one to pack for the family when you venture into Overland Park during Spring Break? Flip flops, snow suits, tanks tops, wool socks, or ball caps? Bring it all. There's something to do during spring break in Overland Park for all ages, no matter what the skies are doing. 
If it's 55°F+... 
There's no such thing as "mom, I'm bored!" at Chicken N Pickle. This entertainment complex, located in Priairiefire, will welcome spring breakers with pickleball, bocce ball, shuffleboard courts, and outdoor games. And come hungry! The menu is perfect kids. This isn't mom's PB&J here. Indulge the kids with a waffle PB&J. And then get a cast iron cowboy cookie with ice cream. They'll burn the calories off, promise! 
Head to Downtown Overland Park to find this gem for the parents and the littles. Strang Hall is home to six chef-driven restaurants and they each have a menu catered to little mouths. The best part? The Strang Hall lawn. There's plenty of space for kids to run around on the artificial turf with yard games. Parents – feel free to walk up to the outdoor bar to keep the kids (and yourself) hydrated. A very short walking distance away is one of Overland Park's best parks, Thompson Park. There's a paper airplane stage. You won't miss it.
It doesn't matter what the weather throws at you during spring break – Topgolf is always 75 degrees in the outdoor bays. This three-tiered golfing range is more for fun than serious golfers (although, you'll see those too). Topgolf's latest game to take a swing at – Angry Birds. Topgolf has a rooftop terrace with fire pits, live musical performances, and a full-service restaurant and is perfect for those older kiddos. We suggest ordering the Injectable Donut Holes for the kids.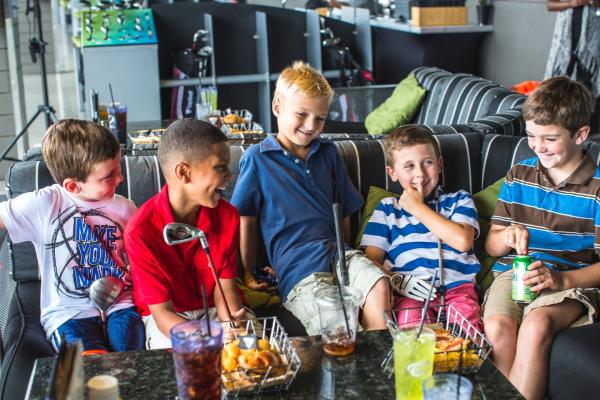 Got a kid who loves trains and the outdoors? The Arboretum is your place to get away from the city and into the gardens. Let the kids loose on a real railroad caboose and a full-size railroad crossing gate. Model trains run through miniature mountains, bluffs, streams, and a model of Downtown Overland Park. When you're done with the train garden, there's plenty more to do in the 300-acre playground. Bring the kids to visit the frog pond, climb the top of a spiraling walkway, explore a shrinking tunnel, and study fossil and animal footprints.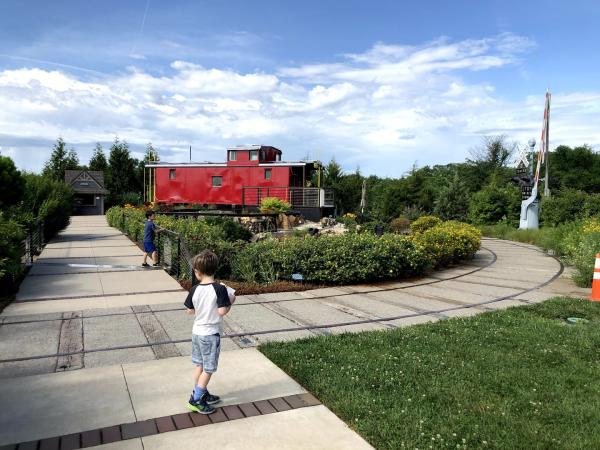 Get off the paved roads of Overland Park and get on the trail roads! The Indian Creek Bike and Hike Trail reaches across 17 miles. Generally, the trail is level, flat, and it is paved. The trail is approximately 10 feet wide with mile markers every half mile. There are some steep grades for short sections.  
The Indian Creek and Tomahawk Creek bike/hike trail provides miles of open and green space connecting the city's parks, neighborhoods, schools, recreation facilities, and more. Leashed dogs are welcome too! 
This 27-hole golf course in Overland Park welcomes golfers of all skill levels. You can get a round in, hit up the driving range, spend some time at the putting green, or just come and hang out at Club 27. Even if you don't golf, Club 27 is the restaurant and home to one of the best patios in town overlooking the course.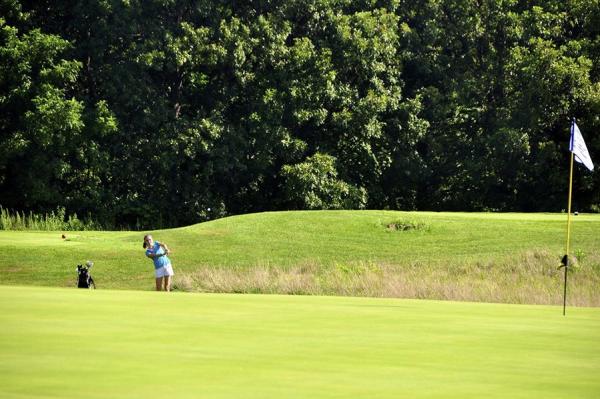 If it's 50°F or under... 
BRKTHROUGH is a brand new social gaming destination designed for teams of 2-4 players, and is unlike anything you have ever experienced. At over 22,000 square feet of space, it features over 35 unique and immersive high-technology game rooms that are a fast-paced combination of physical, mental, and skill-based challenges, designed to maximize fun for you and your teammates. It's Team vs Room on an epic level.
It's time to fly at Urban Air! Urban Air is part indoor trampoline park and part indoor jungle gym. It's the perfect place to entertain kids (and adults) of all ages. It doesn't matter how cold the temperature is outside, your kids will work up a sweat here. It's not just jumping. It's climbing, swinging, crawling, building, flying, and dunking. Open Jump is held daily and perfect for any age, fitness level or athletic ability. Walk-ins are welcome!  
It's the next best thing to skydiving. iFly is Overland Park's indoor skydiving experience. Instructors will give you and your kids training then suit you up for your flight into the two-story vertical wind tunnel. iFly welcome fliers from age three to 103 to feel the thrill and adrenaline rush of skydiving without the feeling of "falling" from the sky.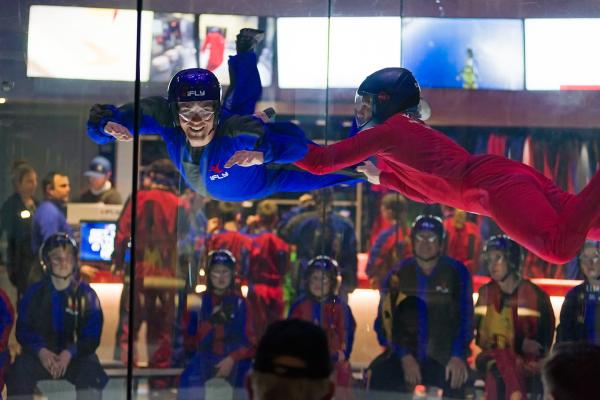 Escape Rooms 
Want to feel like you're in an action movie? Get locked into a room and then it's up to your family to bust out Jason-Bourne-style. Tick Tock Escape Games and Mastermind Escape Games provide many scenarios for your family to try to escape from. Try Tick Tock Escape Games' Space Force – a state-of-the-art traditional escape room but it also has a hybrid video game control system that let's your shuttle the virtual outer space. Or try Mastermind Escape Games' Lost in Time where you must return an object to the distant past. 
There's plenty of space at Pinstripes in Prairiefire! This two-story dinner and entertainment venue has it all to cure the kids (and adults) spring break boredom. Sign up to bowl on one of Pinstripes eight classic bowling lanes. Or try one of ten indoor bocce courts. There are fire pits, great food, fabulous drinks for mom and dad – all under one roof. Little guests will especially love the chef's homemade marshmallows. 
Kidscape is a history lesson through play. An 1870s farmstead introduces kids to life on the farm -- tending animals, collecting eggs, gardening, and house chores inside the farmhouse. Time travel to the 1900s, where kids sell fruits and vegetables at the City Market, perform for an audience at the theatre, and teach at the school. Suburban life springs up in the 1950s. Care for sick patients at the hospital, cook up burgers and fries at the diner, and build a house for a new suburban family. Even explore a park with a secret cave!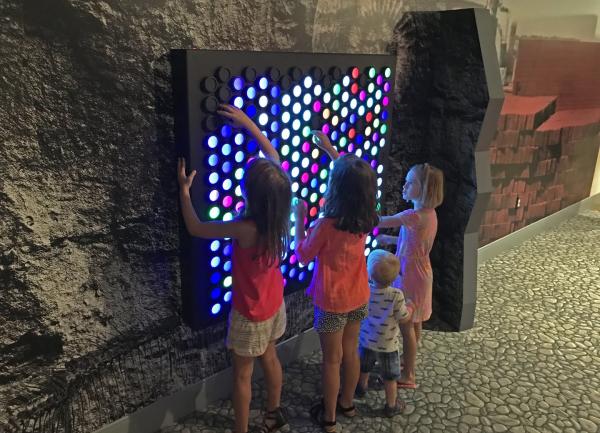 Fill your Instagram with photos of the beautiful of Museum at Prairiefire! There isn't a bad photo to be taken indoors or outdoors. But if you head indoors, you'll find a full-sized Tyrannosaurus rex replica there to great you. This specific T. Rex a replica of the first T. Rex found (by a Kansas, too!). There's plenty of other spots to explore inside. Kids will enjoy the discovery room, with hands on activities covering paleontology, anthropology, zoology, biology, geology, and astronomy. 
What boredom? Bring the young kids -- and older kids, too --to Cardboard Corner Café! There are over 800 board games free to use at one of their extra-large tables. Cardboard Corner Café also has a full coffee and cocktail menu at the bar. Hungry? Their specialty is waffles. Their waffle selection is almost as expansive as the coffee and cocktail menus, with everything from standard to chicken and waffles to pizza waffles. 
Need a monthly dose of fun? Sign up for Let's Go OP.  We deliver the best experiences and flavors in Overland Park directly to your inbox.